Ye gods and little fishes. How did it get to be 2008 so soon?

I mean, I distinctly remember 1978 (we lived in South Korea), 1988 (College - I got mono, and missed most of the fall semester. I also weighed 106 pounds afterwards - boy, has THAT changed), 1998 (bought a house)... that's a lot of decades. Yikes!!

At least I'm starting the year off right: I did, in fact, finish the Britney Handbag before midnight!! Woohoo! So, I start 2008 with 59 UFOs!

The Proof:

The handle, which is crochet waffle-stitch, worked GREAT, and I love the buttons I found. It's lined with a lovely minty green, with matching eyeglass case and change-purse. Wheeeee!

The other miracle? I'm still at 59 UFOs!! I *didn't* start anything new yet, not even the "freebie" New Year's Day project. Heck, I even spent part of New Year's Eve getting the sixth sleeve started on the Cat Sweater! Woohooo!

I now present a long-ago project: The Sheepy Sweater!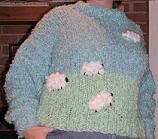 This is what you can do with Light & Lofty, size 13 needles, and an ability to make a lot of French knots (or colonial knots) with Light & Lofty. And, of course, a wee bit of stitching for the sheepy legs and faces. Quick and fun!!

A big colossal DRAT: Camp Stitches is in Santa Fe in May this year. That's a really cool thing; I'd love to be able to drag my husband to New Mexico; he's never been, and I'm sure there would be a few side-trips, since we were already there. Unforntunately, I think it's counterprogrammed against my youngest (and last) niece's confirmation, which I absolutely, positively cannot and will not miss. *sigh* Hopefully, they'll keep having camp at cool places, and I'll get to go in 2009 or 2010!