Final UFO count for 2008: Presently at 60; 59 TOTALLY possible!! See? And, need I add, I've managed to not start ANYTHING new, despite getting yarn *and* cross-stitch kits for Christmas!


Project #
for 2007
Project/Start Date
(if known)
Craft
Likely?
30
Britney Handbag (10/13/07)
Knitting
Really Freakin' Close!!!
33
Set of 8 Dice Bags for Gamers
Sewing
DONE

I'm gonna finish the bag tonight. I'm also over the halfway point on the Lilly of the Valley shawl; carrying it around has magically made it grow. And I seem to have more yarn than I thought I did; I'll have most of the "body" of the shawl done off the first ball of yarn, so I should actually be able to do some edging. (Now, of course, I'm wondering why I took the extra seconds to make a Very Perfect Edge on my shawl, since I'm going to hide it with edging... but I suppose the join will be all pretty, and that'll be worth it.)

For any knitting Browncoats out there, here's a pointer to Adam Baldwin singing 'The Hero of Canton' while wearing the original Jayne hat.

In other news, I joined the "Resolutions 2008" group Hazy started on Ravelry. I made lots and lots of resolutions... and I may actually be able to commit to some of them. Starting, for example, a DeviantArt account or Etsy store will be cake. I didn't say I had to have anything to put in either one, mind you! Shipping out "Escape from HappyWorld" will be a bit more traumatic, however.

Here's the full list of Things This Gryphon Will Attempt in 2008:
Craft related:

Get under 50 UFOs. I've got 60 as of today, and this year's was "under 60". Given I've started thirtysomething things, and finished another thirtysomething things in 2007, this is actually a much bigger challenge than you might think.
Start working on the publishable patterns and publish (free or for money) at least two.
Start etsy store (dice bags?).
Start DeviantArt account for art.
Start regular publication of comic strip.
Ship manuscript out to at least 20 publishers.

Life related:

Lose at least 30 pounds.
Go to Curves at a minimum 3 times a week.
Get up to moving-faster-than-walking for 5k.
Become friends with vegetables at least once a week.
Drink water, just straight water, at least five times a week.

House related:

Pull all the books off the shelves and catalog.
Eliminate duplicates via sale or donation.
Eliminate all excess electronics via sale or donation.
Find floor in craft room; attempt to keep same visible at all times.
Conquer fear of sewing machine to allow it into craft room.
Finish final touches on all the shelves.

Kids, if I get through all of this, 2008 will be a VERY good year!!
And to end 2007 on a bizarre note, I present you with the knitted chandelier that's hanging in a display case on the second floor of the Georgetown Park Mall: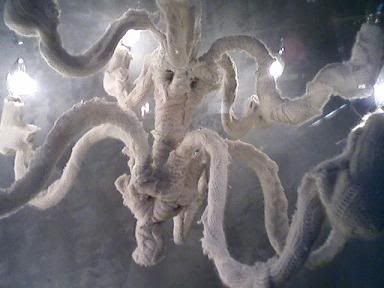 Okay, so it's actually just been wrapped in something that must have once been a sweater... but it looks ghostly. Like Knitting of Christmas Past, or something. Spoooooooky!

Happy New Year!!!