Wendi Dunlap, of Slumberland.org has *the* coolest idea for her patterns: "Postcardware". It's like shareware for software - OK to use, just if you like it, let the author know. In Wendi's case, she asks that if you like her pattern for the Warm Braid Cable Wristwarmers Pattern, you send her an Interesting Postcard.

I'm hoping I can find an interesting *enough* postcard... and I'm also hoping I knit faster than all-get-out on the LotVS, since I'd like to do a pair of Wendi's wristwarmers for one of the girls in the office for Christmas - THIS year!

Speaking of LotVS, I checked the directions, and you can imagine my delight when I discovered that I only have to do 10.5 pattern repeats total - NOT the twenty-three I thought I had to do!! Mind you, each full repeat appears to be 28 rows... but I've finished three, and now that I'm actually working on the bloody thing, I think I've done in the last four days as much as I'd done since I started working on this shawl. (Darn that KnittingDaily.com newsletter - that's what got me sucked into Lace Style in the first place. And darn Stitch DC for having the book in stock, and the perfect yarn for it!)

In other news, those darned armwarmers. That darned knitting store. The UFO count is now at 64, which is what it was on January 1, 2007. This is NOT GOOD. Despite having actually finished 22 of the things (thus far) that I've started in 2007, plus finishing another 14 things (so far) that I'd started in prior years (note, that's 36 projects finished in 2007!), I'm at a net project completion of ZERO. Gah. And, as you may have noted, I cannot, in fact, just knit on one thing until its done. I don't think I made it five days. On the other hand, five days may be some sort of record in and of itself.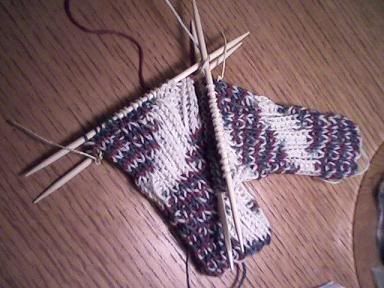 ANYway, I'm using my five little DPNs to knit two little armlets at the same time. I'm not *exactly* using Wendi's pattern, but close enough, I think, to give credit. I'm going to try my own pattern for the second pair (if I get that far), and put that up here for free (assuming that whatever it is I think I've figured out actually results in wearables).