Look ye, and learn to fear:
This is a photo of SIX ROWS of garter stitch. 104 stitches per row. The penny is to show you the scale.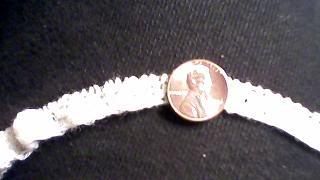 This is what happens when I get the brilliant idea for knitting a snowflake lace scarf from Lacey Lamb on size 0 needles. I was saved, fortunately, because on the third row of the lace pattern, I messed up. I tinked out carefully to the error, almost managed to fix it, and noticed that my yarn had broken at some point (something about the ball having rolled under my husband on the couch, and the yarn having decided that the best way to escape was through the handle of his penlight. You know, the one with the serrated edge inside the clip for cutting things). Taking it as a sign, I pulled the critter out. I may start again at some point, because I *would* like that scarf... but maybe on size 2s. Or better yet, size 8s, with acryllic worsted.

More things I'd like: This beautiful Hello Yarn Corroded Hand-Dyed Alpaca DK Weight Yarn. In lovely earth tones, no? Perfect for Secret of the Stole II, which is starting Really Soon Now. Well, I *think* it's perfect; part of the fun of a mystery stole is following - or not - the suggested colors to see what you get. I know I'm going to love what I chose for SotS #1, once I get past Chart #2 again. I'd also feel better about spending $100+ for the yarn for #2 if I'd already finished SotS #1. *sigh*. And I'd still like the "Farn" Wollmeise. *sigh again*.

As the Snowflake Scarf ain't happening, I had to go over to weloveholidaysweaters.wehatesheep.com myself. Here's my lovely holiday sweater, all knitted up and finished. Like I said before, this is the ONLY sweater I'm finishing before the end of the year.



Sadly, I really like this. This probably says something about me.
I also liked one of the "worst" of 2006, too...
the Light Tree, Launch!


On the knitting front, progress gallops apace on the Lilly-of-the-Valley shawl. At least it's snagging on the velcro closure of my messenger bag more often than it used to, so I'll assume it's actually getting longer. Thanks to a really, really slow train this morning (as in "half an hour late to work, when I'm usually about half an hour early"), I've almost finished today's repeat. Yay?