If you can't get that new Target Christmas Jingle out of your head, here's the song it was based on: Jim Noir's 'My Patch'. I played a couple of his other songs, too... I'm gonna have to track down some of his albums. I ♥ electronica! And as long as you're over on YouTube, the Spice Girls did a cute Tasco commercial.

I've been working on Cup-O-Shawl, aka the Lilly-of-the-Valley Shawl from Lace Style (allegedly for the knitalong). Here it is, peeking out of its stylish designer carrying case (aka my purse):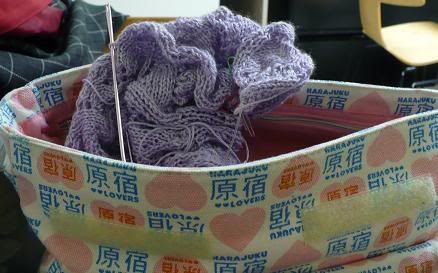 Best license plate of the week: Seen on a MiniCooper...

And for the crocheters out there: Nezumiworld Filet Crochet of all sorts of stuff. (And wire crochet, and basic crochet, and yarn/bead conversions, etc. It's a site chock-full of cool free things!) I'll be doing this squirrel, for sure!