Fun Fact I've Noticed: Every "Finished Project" I've got listed over on Ravelry is some shade of orange. (Except for the mitts below, of course.) There isn't anything left in the queue-of-things-to-finish that's orange. This may be bad news for my attempt to finish three more things in the next two weeks.

If I relax, and give myself time to eat knit before work, and eat at lunch, and I can sit down during my train ride home, and I watch one hour of TV in the evening, I can get a repeat of LotVS done in a day. This means, theoretically, I could have the "body" done in a week. I may go for it. (I may also be distracted by just about anything that catches my eye.)

I've presently got four repeats done - this means 6.5 to go. Oh, did I mention I probably don't have enough yarn to do the edging? At least probably not all of it. Then again, I might. I have a little ball of yarn in a cup (Cup-o-Shawl)... its other skein still has its label. And it's somewhere that I've seen it recently. Which, given that I was diving for surplus yarn Tuesday night, doesn't narrow it down much. And I'm supposed to be knitting black mitts, but that probably won't stop me. I seem to do much better knitting at something when I'm not supposed to be working on it.

SotS II: The swatch pattern is up! "Earth Tones" are called for... and I saw Farn Wollmeise. I totally want some. Wendy is using some deep-blues for the shawl model she's knitting... the richness of the colors is amazing. No, I don't konw if I can actually touch the stuff, which is why I'm not just coughing up 26 Euros the second I see some available. *sigh*

Now, the promised Mitt Photos:


Knitting from both ends of the ball
taken to extremes.

See the dark red line?
That's all the yarn that was left
between the ends of the ball!!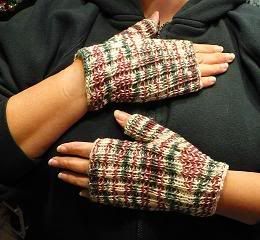 But they came out nicely, I think.
V. simple pattern, too.
PATTERN, a CraftyGryphon OriginalTM:


Really Simple Top-Down Mitts


Notes: One skein Lorna's Laces Shepherd Sock Yarn should make four mitts for small hands. My palm is 3.25" wide; gauge in pattern is roughly 20st per 3.25" the way I knit. Adjust size as needed, depending on how you knit. Sizing up or down involves math, so I'll leave that to you. Needles used: Size 3 DPNs and size 1 DPNs.

On size three DPNs, using long-tail method, cast on 40 stitches (This is the top of the palm, the bit of the mitt nearest the tips of your fingers).
Join, being careful not to twist stitches
Place marker to indicate start of row (on little finger side of mitt). Slip marker on all rounds. Make ribbing, k2-p2, for 24 rows. Set aside. (24 rows)
From other end of ball of yarn, using long-tail method, cast on 20 stitches using size 1 needles.
Join, being careful not to twist stitches.
Make ribbing, k1-p1, for 16 rows. This is the thumb. Cut long (at least 6") tail.
Join thumb to palm by knitting 20 palm stitches, knit 20 thumb stitches, knit remaining palm stitches on size 3 needles, [PHOTO FORTHCOMING], making certain the thumb is pointing the right way. Yeah, I know, it shouldn't be a problem, but if it's really late at night, it's possible to get confused. Trust me on this. put size 1 needles aside. (25 rows)
Knit 2 rounds following rib pattern - k2p2 on the "body" of the mitt, k1p1 on the thumb. (27 rows)
On the next round knit to the first thumb stitch, SSK, follow pattern to last thumb stitch, K2Tog, follow pattern to end of round. There are now 18 thumb stitches and 40 body stitches remaining (you have decreased the Thumb stitches by 2. (28 rows)
Next round and odd numbered rounds henceforth: follow rib patterns.
Even rounds: decrease as above at first and last thumb stitches. At the 42nd round, you will have four thumb stitches left. Re-distribute stitches on 4 needles (11 sitches per needle). You now have 44 body stitches.
Work body in k2-p2 rib (see how those extra four stitches just go right along in there?) to desired length. This is about an inch past the bottom of the palm if you want two pairs of small mitts out of your ball of yarn.
Bind off and Weave in ends. Use long tail in thumb to weave together thumb-body join snugly.
Now, I'm a pretty slow knitter, so you've still got time to knock out a couple of pairs of these for Christmas, if you need to! (and a huge

Thank You

to the lovely L, for editing the above!)

Happy holidays!