Okay, I was wrong - Clover Hill Yarn *is* trading hands (eventually), but will stay in operation; likewise, Springwater Fiber Workshop is realigning its hours. Nothing's closing. Yaaaaaay!! Thanks to the L for the heads-up.

About those projects...
Well, I finished the armlets and a sweater, which brings the UFO count down to 62. That's just three more things to finish, and I'm under 60!

I got the body of the Brittney Handbag (once again, departing somewhat from the actual bag-as-designed, because that's what I do... bloody miracle I actually followed the pattern for the sweater itself!) onto the blocking board, but didn't have time to dampen it. I'll do that tonight. I've finished the straps, too; I just need to make a couple of little poke-the-strap-through-so-it-doesn't-flop-around loops to attach to the strap-side that has the button on it so the buttonhole strap-side won't flop. Then I just have to figure out how to put it all together.

What *was* on the blocking board was my Racing Stripe Vest. This is called "there was a sale on Rowan Cotton Glace so I bought a bunch and this is what I did with it, no there isn't any left."

| | |
| --- | --- |
| Front | Back |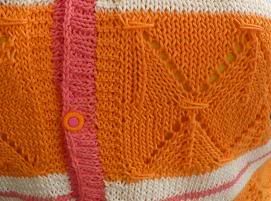 Close-up of cool lace-like pattern
with the absolutlely PERFECT buttons I found


I really like the way it came out, and it'll be fun to wear when it gets a bit warmer out... and once I find my stretchy white turtleneck tee, which is what's supposed to go under it. But it was fun to make, and it's definitely the sort of thing I wear, all bright-and-shiny as it is!