Much to my surprise, I actually finished something I could turn in for a fifth class Tuesday night, and turned it in Wednesday. (I'm going with the relief I felt over having let myself Not Finish my OWLs and Not Have To Turn In More Classes relaxed me enough so I felt like knitting again.) It's the short pair of bedsocks I started about a week and a half ago (when I wasn't feeling well, I think). They fit well, and stayed on all last night - which is impressive, since I tend to kick if anything's on/near my feet, unless they're completely warm. (And they're from my own pattern, which is here.) I'm going to give these bedsocks Four Stars!



Corny, but I've been waiting to use the Four Stars icon for a while now!!


Here they are without feet; with feet is in my turn-in post, below.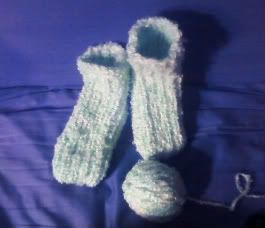 And... the turn-in post:
Hello, Professors! This is CraftyGryphon, Third Year Slytherin, turning in her assignment. I have chosen Option Two, "create a strengthening potion".

There are all sorts of strength. Physical is what we tend to associate with "strength", but there are mental and emotional varieties as well. To me, the most difficult type of strength to muster is strength-of-heart, more commonly referred to as "courage". Sometimes, when faced with a difficult and frightening task, I get Cold Feet. To that end, I have crafted some courage-encouraging footwear - to prevent Cold Feet, as it were.




I didn't really expect to finish them, as I've been a bit overwhelmed in March. Last night, I had one strip-of-knitting and a ball of fluffy yarn, and I managed to turn it into two strips-of-knitting, then seam them into socks. Which are warm, and fluffy, and definitely help with cold feet - and, hopefully, Cold Feet.

Having worn them all last night, I already feel a bit braver!

Thanks for the assignment, Professors. I really think I needed it!
PS, did I mention they fit super-well and are really nice and toasty? Oh, I did...? Eh, it totally bears repeating!!