Sweaters, of course, are not the only thing that misbehaves. Shawls, do, too. This is my absolute 100% worst offender project EVER. It is made from the following AMAZINGLY WONDERFUL yarn:
"ESPRESSO-CRIMSON-GOLD PAINTBOX GRADIENT ON FOOT NOTES YARN: 15 mini-skeins of 30 yards each which transition from deep espresso through chocolate and rich blood reds before ending in bright gold. A total of 450 yards (4.25 ounces) of 80% Superwash merino, 20% nylon fingering-weight yarn."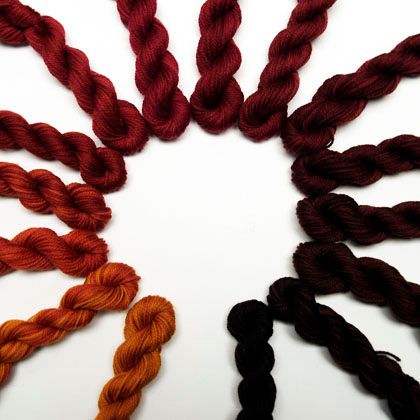 Please see kimberbaldwindesigns.com for more amazing gradients!
I want to state clearly, and for the record, that this yarn is in NO WAY at fault for the resulting chain of disasters. The yarn soldiered on nobly, trying again and again to do what I wanted.
What I wanted was an optical illusion basketweave geometric design on a shawl. Should be pretty easy, as I've tried similar, and not completely killed myself doing it. This shawl, however, wasn't going to cooperate.
The first incarnation, I got to the third skein of the 15 (I started on the Espresso end) and realized that sockweight yarn on size 8 needles doesn't lend itself to hiding yarn tails very well. So I went through and spliced all 15 balls into one giant ball (Yeah.), and tried again. Things were going ok, then I missed a turn... one of the ends of a rectangle didn't happen, so I had to frog out a few rows. I tried to get it back, and it just wouldn't... so I frogged the whole thing.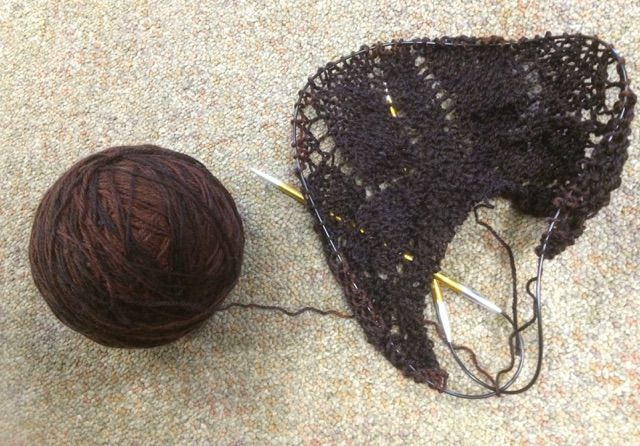 This happened about once a month for an entire YEAR. Yes, year. I got the yarn at the 2014 MDS&W. I think I might have skipped a month or two in there somewhere, but I feel pretty confident that I tried to start this thing at least eight times and never got past the second color of the gradient!!
I recently (as in "just before the 2015 MDS&W") found the
Knit Mate app
(iOS only so far).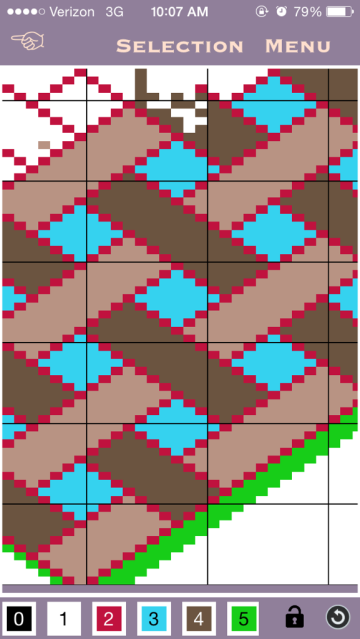 Made using the Knit Mate app, which is pretty cool!
I tried again, and it worked! It was going beautifully! And then I realized I'd only done HALF of the row... I did about 50 rows without the second half of the triangle shawl. I thought about saying "pfeh, that's fine!" and making it a bottum-up-from-the-point shawl, but. Darnit, I want the shawl I had envisioned!!
So I tried again. And again. I almost made it to the third color the last time, and then something was horribly wrong again. I'd forgotten a turn, so I dropped just the necessary stitches and tried to fix it, and it just wouldn't fix. Something was just OFF.
So, I frogged the whole thing, and wound up the yarn into a pleasant, pretty little cake.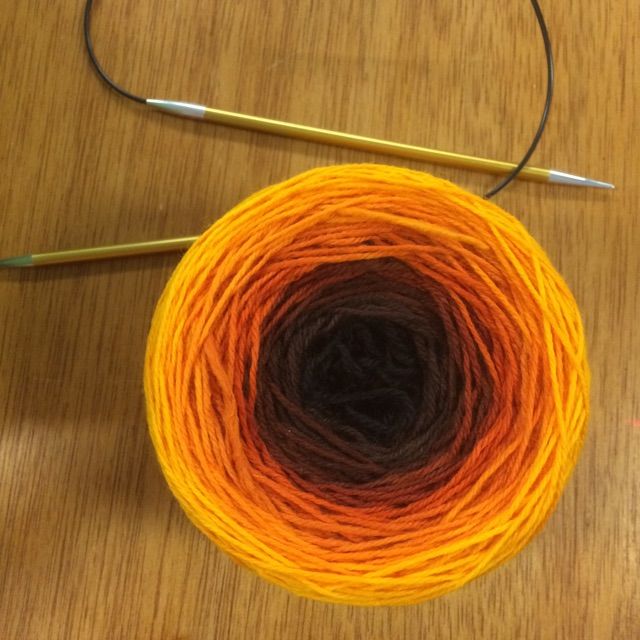 Yep, those are Signatures. I have two sets, size 4 and 8.
I have since pulled out a ball of Done Roving Footlights Transitions, and I'm making a
Fall of Leaves shawl
, instead. It's going much, much better.