The store ran the annual Sunday bus trip to Sheep & Wool again this year. I dug out my second Mizzle shawl as my take-along project: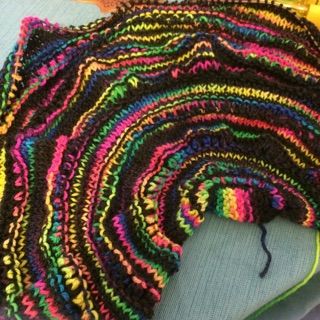 I got a little bit done on it, I'm done with the first set of 76 rows, and working the "extra 54 rows" to make it longer now.
I also managed to forget to take any pictures of what I got (and I was AMAZINGLY restrained), so I'll just list:
---
A cute needle-felted owl zipper fob for me, an a Minion for Shirley;
An owl needle felting kit (makes two owls);
Three wooden spools for spinning/plying;
Two boxes of Fiber Optic color runs, the same, which go from orange-yellow-white-skyblue-blue-royal, which will be a stole with the sun in the center and the sky around (IT WILL BE AWESOME);
A skein of orange-with-sparklies Wild Hare Galaxy (my absolute favorite yarn);
Three tshirts, 2 MDS&W and one that says "Not buying yarn is like not breathing";
This year's MDS&W tote and pin;
Two CDs: Maggie Sansone's holiday sampler, and Al Pettiway's collected Vol. 2;
A table loom.
Well, and various foodstuffs, because RIBBON FRIES.
But I actually came home with cash, didn't charge anything, could still carry it all easily, and hey, weeks later, can still remember all of it!
I did get a few photos, though, while the Sheep-to-Shawl was happening: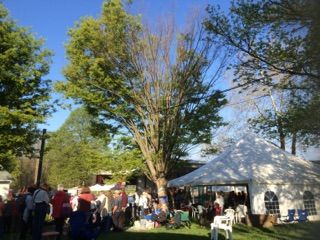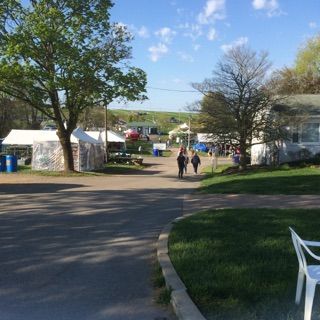 Someone on the 'net must have written up the insanity that was the shawl auction - where one shawl went for $1475 (!!!!!!) and the next went for an even $1000! (Needless to say, I did not bid.)
It was a beautiful day (you can tell that from the pics), and it was a lovely, fun, relaxing day. I'm looking forward to next year's trip already!!