Amid lots of prep for handing in Masters Level I, I blocked my proposed Charms O.W.L. swatch, since I already had all the blocking stuff out.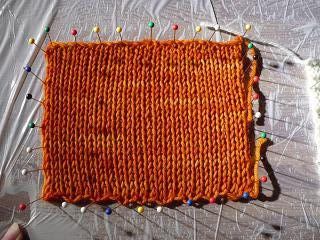 I can't put in my proposal until May 1 - which, of course, is tomorrow, and which I will NOT be doing via dial-up. So, first thing on Monday, I'll be putting in my O.W.L. proposal. It may take a few extra days to get it approved (or not, but I'm hoping they'll approve), but that doesn't matter, since I won't be physically starting it until May 16 at the Jared Flood class. (And since I'll be starting Girasole then anyway, I really, REALLY hope it's accepted as an O.W.L. exam!)

On the scarf front - go figure, I have a scarf. Since it was a really, really lovely day out Wednesday, and my allergies were (mostly) behaving despite the hellishly high pollen, I sat on the waterfront for an hour and knit while watching "Whip It" on my iPod. That was the plan, anyway... Turns out it was really, really windy - and cold, and yet sunny enough that I couldn't actually see my screen. So, it was sit at the waterfront for twenty minutes listening to an audiobook and knitting, then move inside for half an hour and keep listening and knitting. Progress Was Made. By lunchtime on Thursday, I'd finished the main part of the scarf. When I got back to my desk, I needed lots and lots of 6" fringe - which is easier made by the foot. Which makes wrapping all the yarn that's left around a ruler a really, really easy way to make fringe.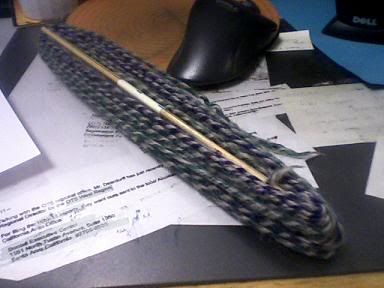 Had to sneak the fringe on to the scarf while doing other work, but it was what kept me sane Thursday afternoon. (It's "all heck breaks loose" season.) Managed to get that done, so by the end of the day, I had a scarf:
I really like the way the blue diamond pops out of nowhere!
PS, SOFTEST SCARF EVER!!!


And it's a scarf that goes well with my spring/fall jacket, too!