So, I never really posted my March Stuff Finished... and I didn't do a collage, but trust me, seventeen things (12 of them Braided Balls for my failed Arithmancy OWL) came off the list in March. April... April is going to be another story. I finished one thing in April. I had some leftover hunter green acrylic, and knit up what I think will be a totebag handle at some point. But that's it. That's the April finish so far.

There is, however, a bunch of Stuff I Started In April:

Scarf:


It's out of my Dobby's Sunset yarn. I kept waffling back and forth on making the embossed leaf entrelac, but I really like it so far.

Mitts: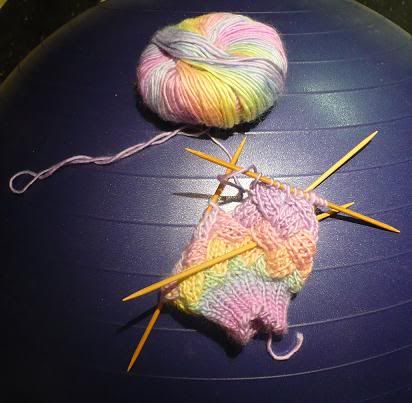 On one of the recent trips to Fibre Space, two balls of Mochi Plus came home with me, and they're slowly turning into entrelac mitts. If I find more Mochi Plus in this colorway, I'll add to them... and eventually get a shrug. Or a sweater. It's just that soft and cuddly!

Shawls: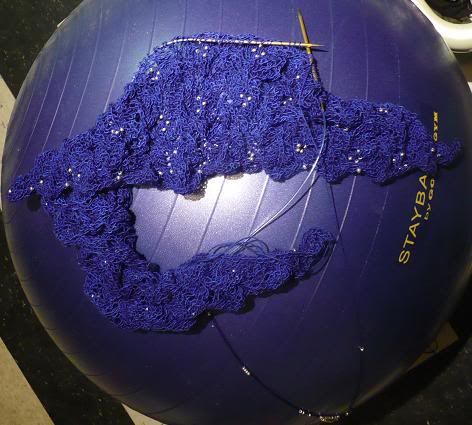 That's StellaLuna out of MadTosh lace in Fathom, and she's about 2/3 of the way finished. The whole "have this shawl finished for Easter" did not, as you can tell, happen. Sigh. But it's going to be really pretty, and I'm getting good a spit-splicing (there was an UNBELIEVABLE tangle somehow in my center-pull ball!)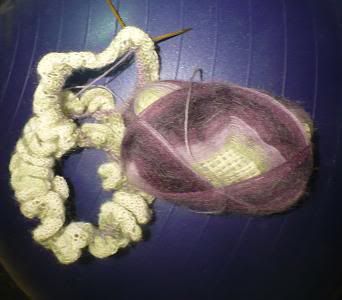 I got some Patons Lace because I liked the colorway. Turns out it has AMAZINGLY long color runs, so I'm knitting a triangle shawl from the long edge down to the point (an idea I got from StellaLuna). Making up the design as I go, and charting same; will probably put it up (a) when it's finished if (b) it turns out well.

Then, there's the shawl I started the day I got the Color Changing Cotton from Looped Yarn Works. It, too, is about halfway done now, but here it is in an earlier day: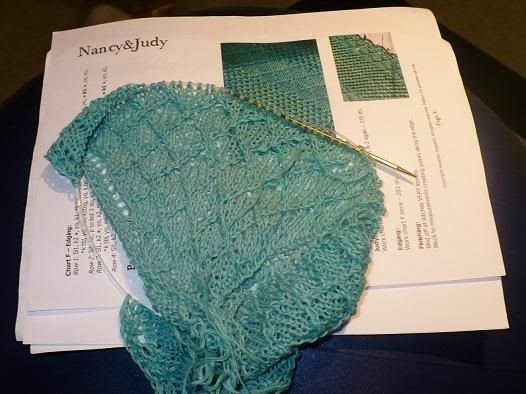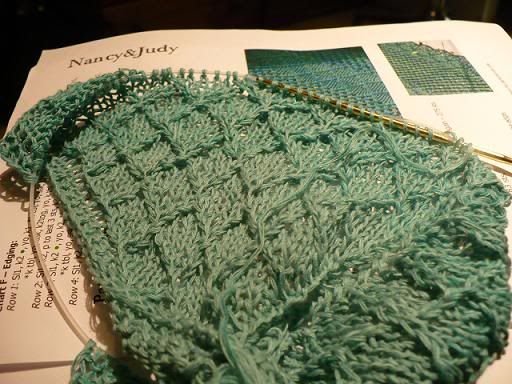 There's also my Slytherin Crest Bag, which will be amazing when it's finally finished. This last week of April was spent cutting up the lining, getting all the pockets Just So, and handstitching everything together. NOT EASY. But worth it... hopefully I'll be able to finish it up tonight and tomorrow, turn it in for April Stitch-Along class, and then use it as my identifyer at MDS&W on the 8th. Anyway, progress pics - Bag: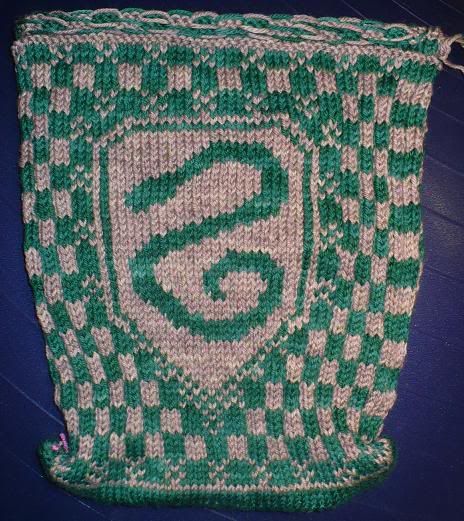 Knitting done...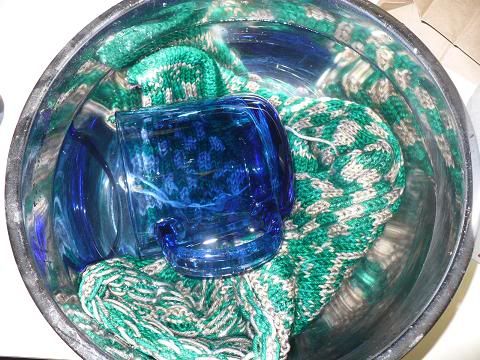 ...then, the ritual bag wetting...



...then, figuring out how to block this thing. Turns out, a piece of floral foam was the perfect width and depth, and just a wee bit short. But I figured out how to make it work:




Yay! Okay, May can start now.