Okay, so no Master Level anything got done last week. It was all about the baby-to-be, and getting stuff to the Mommy-to-be while she was in town for Easter. Today, I show off the Pretty Pictures of the baby jacket. The pattern is Courtney Filner (Yarntootin)'s Five Hour Baby Sweater, the yarn is (per request) machine washable and pink, and the final result is pretty darned cute, if I do say so myself. And I do.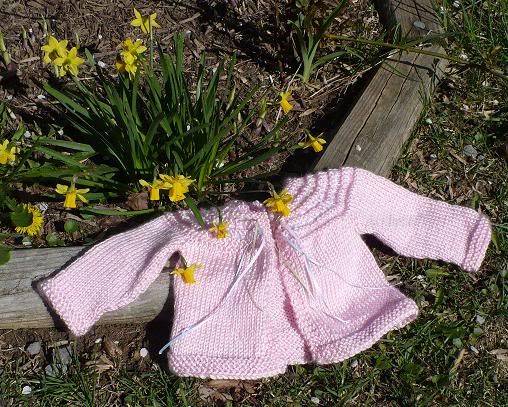 The weaving-the-ribbon makes it look Special (not that it isn't anyway), and took about 10 minutes. You can see in this closeup how I triple-knotted the ends to the sweater, so there won't be any ribbon pullout loss. Can't guarantee, however, that there won't be some baby-chewing-on-ribbons - they're naturally dyed with babysafe stuff (I checked) just in case.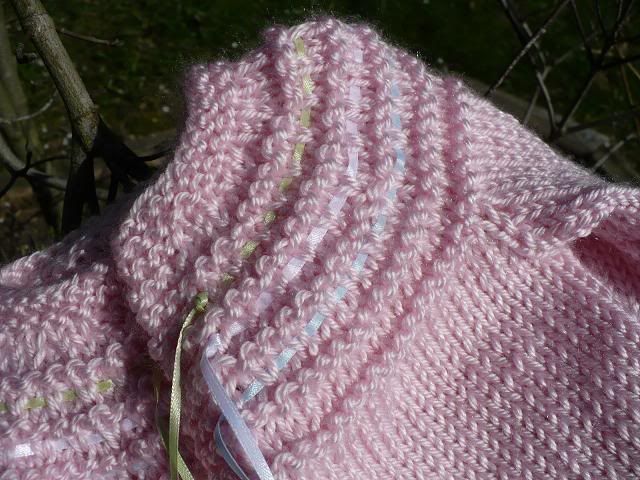 Definitely going to keep this pattern in the Emergency Knits bin. Most of my peeps have had kids already, but the grandkid generation isn't that far away...!