Last night, I realized that if I didn't turn in at least ONE class this month, I risked getting booted from Hogwarts, a fate worse than awfulness, since even when it's driving me nuts, it's keeping me sane. So, I tried something completely new: Irish Lace. (Seems appropriate, what with St. Paddy's being tomorrow.) This is one Rose Medallion from a lovely Rose and Daisy collar designed by Megan Mills. It took about 140 yards of size 10 crochet cotton, and about two hours - most of which was spent figuring out the instructions. Which, by the way, were fine, just primarily for non-US crocheters. I hadn't realized that Things Were Different elsewhere regarding crochet terms, but, as it turns out, they are! Anyway, here's the little medallion once finished: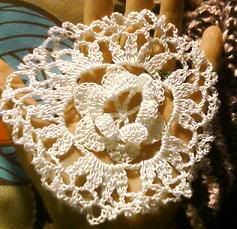 As you can probably tell, it needs blocking. So, I blocked it - using a LOT more pins than I'd realized I'd need, intially. (Finding "more pins" in my house... um, well, it's a challenge just now, but I managed.)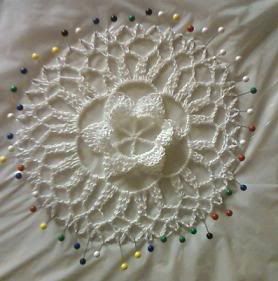 And here it is all done, as presented in my Herbology turn-in. It's possible this will be the only class I do this month, but I'm going to try the Daisy Medallion for Charms tonight, which may open the creative floodgates and at least let me turn in a couple more. (Sadly, I'm going to have to hit a yarn store one of these days. I seem to be out of white sock-weight yarn, which I'll need for Arithmancy and History of Magic.) Anyway, here's my turn-in post:
Hello, Professors! This is CraftyGryphon, Third Year Slytherin, turning in her assignment. It is a crocheted Irish Lace Rose Medallion.




I've never actually tried Irish Lace before; it seemed scary, what with the three-dimensional bits and the loops and getting everything to show up where it ought. This pattern was a bit more of a challenge than I was expecting, since I'm in the US and, evidently, all the crochet terms across the pond are the same - but what they Actually Mean is different. Yikes! I managed to get through it, though, and I'm glad. I really really wanted to turn something in for Herbology this month, since I whiffed it last month!




It's really pretty. I'm going to attempt a Daisy Medallion (I think) for Charms class, and if I survive that as well, I'm going to attempt a Lace Collar in much finer thread for my niece (well, for my sister, really, since my niece is a little young to appreciate it). That, thankfully, won't have a time limit. The medallions are just For Pretties.

It took about 140 yards (!!) to crochet this little tiny thing - it's only about 5" across, but there are a lot of triple crochets hidden in there. I keep being surprised at how much more yarn crochet things take than knitted things!

I hope this little project is acceptable, Professors. It was a challenge, but I think it's really pretty!