So, I had six classes finished by Sunday night, and that was all I needed. I'd almost finished my little lobster for Charms (WITH FLAMES), of course. The whatever-it-was that I'd been fighting off most of last week finally got me Sunday afternoon (I missed part of the NASCAR race, so you know it was pretty serious), and I wasn't sure I'd survive the commute to work on Monday. (Turns out - I wouldn't have... or, rather, the other people in the car wouldn't have been at ALL happy.) So, here was my little lobster as of Sunday: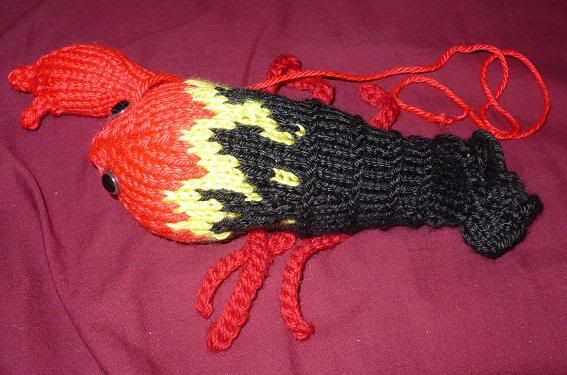 As you can see, he only had a claw left. So, very slowly over the course of Monday morning (and it was just 30 rows, some as short as six stitches, so the fact it took all morning... sigh... I finished him up and turned him in.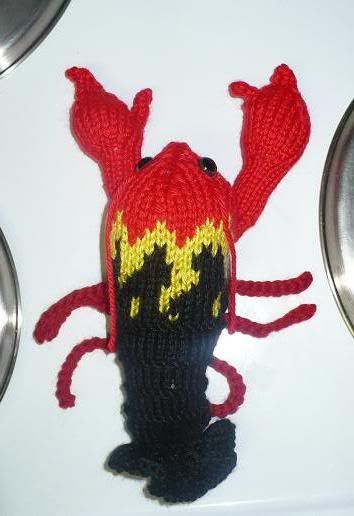 Here's the actual turn-in post...
Hello, Professors! This is CraftyGryphon, Third Year Slytherin, turning in her assignment. I have chosen to do a piece representative of the B-52's classic, "Rock Lobster". While it's really more of a spoken-word piece, there's definitely something resembling music behind it, and it definitely refers to an actual lobster. I think. Anyway, I knit up this little guy. Since he's a ROCK lobster, I had to knit him WITH FLAMES. Rock is all about the attitude.




I think he's a redeemable Bad Boy, though. I mean, just lookit that sweet face...




As some students might not be familiar with the musical work in question, here's a link: Link to YouTube B-52s "Rock Lobster" Video


Yes, it's a bit strange. But I got a lovely little lobster-friend out of it, and he even matches most of my accessories. (He has, however, warned me that I WILL NOT wear him as a hat/headpiece, EVER. Or Else.)

Thanks for a fun assignment, Professors!!
And because I want to make it easy for you, here's the B-52s Rock Lobster video, right here!


Yep, today, it's all about the strange!