I'm now convinced that Lauren knows everything. Honest. If I have a question about anything yarn- or tech-related, she knows the answer. And those are usually the only two areas I have questions about, so that pretty much covers my world.

Speaking of yarn, which I usually am, the Sweet Life Yankee Swap was last night. There was some *great* stuff... I'd've been happy with either of the things I got (my first got stolen). What I got was:


A gift bag, with THREE presents inside!

Vogue 2006 Holiday Issue...
which I *almost* bought, but didn't! Yay!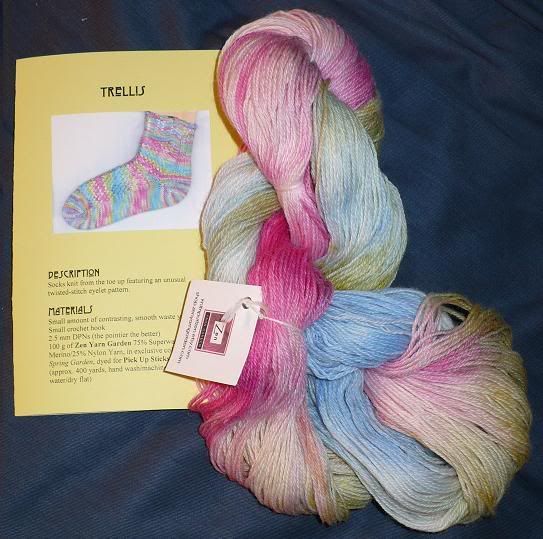 Pattern: Trellis, April 2007 "Pick Up Sticks" Sock-of-the-Month Club

Yarn: Zen Yarn Garden "Spring Garden"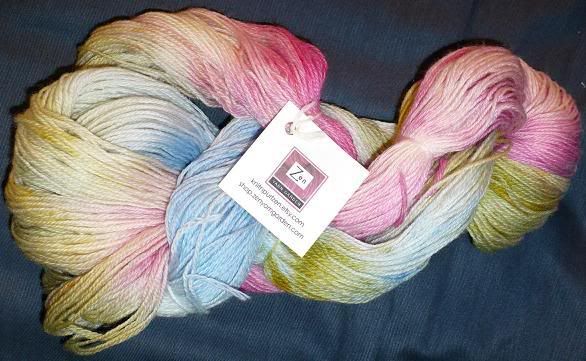 Oooooooo, pretty!!


I would like to note that I haven't started these socks yet, despite AMAZING temptation!!

And now, something seasonal. If you wish, copy & play in you own blog! I've set it up as a table, so you should just be able to copy the questions only.


| | | |
| --- | --- | --- |
| 1. | Wrapping paper or gift bags? | Depends. I have cool gift bags with pictures of Knitted Flowers on them this year. |
| 2. | Real tree or Artificial? | As artificial as possible. This year's has a music-syncrhonated light show. |
| 3. | When do you put up the tree? | As early as possible. This year, I'm hoping it's December 16th. |
| 4. | When do you take the tree down? | As late as possible... barring construction on the house. This year, it'll be down the 29th. |
| 5. | Do you like egg nog? | Ik, no. |
| 6. | What is your most favorite Christmas gift ever? | Oooooo, that's tough. I've gotten a lot of wonderful things over the years. |
| 7. | Do you have a nativity scene? | Several. Eventually, I plan to cross-stitch one. |
| 8. | Hardest person to buy for? | My husband. |
| 9. | Easiest person to buy for? | My mother. |
| 10. | Mail or email Christmas cards? | Mail! |
| 11. | Worst Christmas gift you ever received? | Clothes, when I was little. Now, of corse, I love getting clothes. |
| 12. | Favorite Christmas Movie? | Tie: Muppet Christmas Carol or It's a Wonderful Life. |
| 13. | When do you start shopping for Christmas? | December 26th of the previous year. |
| 14. | Have you ever recycled a Christmas present? | I don't think so... |
| 15. | Favorite thing to eat at Christmas? | Cheese! |
| 16. | Clear lights or colored on the tree? | Colored M&M lights. |
| 17. | Favorite Christmas song? | Tis the Season from Muppet Christmas Carol |
| 18. | Travel at Christmas or stay home? | Both. |
| 19. | Can you name all of Santa's reindeer? | Yes. Dasher, Dancer, Prancer, Vixen, Comet, Cupid, Donner, Blitzen and Rudolph |
| 20. | Angel on the tree top or a star? | An angel, sort of. It's Ginger Spice of the Spice Girls, dressed as an angel. |
| 21. | Open the presents Christmas Eve or morning? | Morning! |
| 22. | Most annoying thing about this time of year? | Wham's Last Christmas |
| 23. | Favorite ornament theme or color? | "Pop Culture" is the theme for our tree (if the lights and angel hadn't clued you in) |
| 24. | What do you want for Christmas this year? | A floor-scrubbing robot! And one actually exists now! |
| 25. | Who is most likely to respond to this? | Don't know - but if you do, leave a comment with the link so I can read your answers! |