Alexandra totally made my day on Friday by telling me I have pretty hands. *Squee!* As compliments go, this was as timely as it gets - given that the night before, I'd been whimpering to myself and wondering when my hands had started looking old. (As it turns out, I just needed some Jergens... who knew that knitting with Superwash Wool would dry out my hands? Better yet, that WINTER would? Yeah, I know, it's a miracle I survived living in Alaska for three years. Thankfully, I had Siamese Cats taking care of me; they had much more common sense than I at that age.)

Anyway, here's more pictures of my hands, because I finished the Mitts!!
Spliced together, since I need one hand to hold the camera at a time!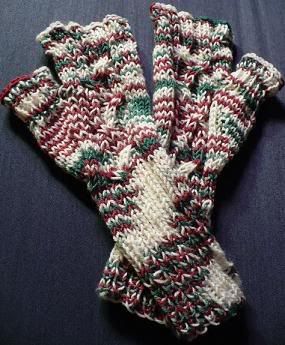 MITTS!


I also got the buttons on the Unnamed Sweater, which is done. It's a pain trying to get a good picture of myself with the (small) mirrors in my house, but it was VERY rainy outside. *sigh* Anyway, it's done. And you can sorta tell its a deep scoop neck with a collar that flips down in front. It's hard to get a good look with one of my arms in the air, I know.
| | |
| --- | --- |
| Mirror A | Mirror B |

My favorite buttons, and they're finally on a sweater!


And in other close-to-finishing news, I worked quite a bit on Pretty as a Peacock (I'm done with Chart A, and I've threaded my lifeline):

OMG, I love this colorway: Claudia Handpainted "Ocean Depth"



I've also finished the body of the Brittney Handbag. I found GREAT buttons for it (and giant snaps, since I'm not making a button-hole for this one), and a lovely matching green lining. I'm making the strap using afghan stitch (thick, durable), and my husband had the idea of having buttonholes on the strap for my extra button. I'm not quite sure how to *make* the buttonholes, but I'll figure something out. Alternatively, I have three extra jumbo snaps... hmmm. Anyway, that should be done soon, too. Yay! Pics tomorrow of what I've got so far.