I want a Seed Stitcher!! I got an imported latch hook kit, and the latch hook provided is too big for the canvas it comes with! Can you believe this? Now, I can use a lovely size 10 crochet hook, fold the little rugyarnbits in half, pull them halfway through the canvas (about twenty at a time), then go *back* and pull the ends through each loop, one by one... but this really kills the mindless rhythm of latch hook. I *will* say that it's the best printed canvas I've ever worked - I won't have to refer to a chart to get the picture just as it should be.

But man, it needs a tiny, tiny latch hook!!

I did get something I wanted: Laurie Perry's 'Drunk, Divorced and Covered in Cat Hair'. Finished it in a day, and it was wonderful. If you don't quite know who I'm talking about, she's also Crazy Aunt Purl.

Didn't get any actual knitting done (maybe a row or two on the Lilly of the Valley shawl). Didn't get much cross-stitch done. Didn't actually get past the buy-the-necessary-materials step of further home renovations. Instead, I went to see movies!


Movie
Opinion


National Treasure:
Book of Secrets
Fun, and more or less what I expected, based on the previous film. Predictable? Sure... but that's the point of treasure-hunt based popcorn flicks. It was fun seeing lots of DC-local stuff, and fun seeing what I know they filmed when they were in town... that didn't make it into the movie. But, then, Riley's two best lines from the trailer aren't actually in the film. It did, however, contain fun things like puzzles, travel around the world, car chases, a somewhat likeable villian (that's smart - I like this series because the villians are just as smart as the heroes), and Helen Mirren. (plot summary)
Enchanted
Disney fluff, with the up-to-date strong heroines, fun musical numbers and MORE talking chipmunks (like the other three weren't enough). I have some serious issues with the animated princess, though... she's what, a size 0? Great job promoting health, there, Disney. Usually you make your heroines at least somewhat *possible*. And, I suppose, the animated Giselle is... she lived in the middle of a forest, and maybe she didn't know how to feed herself. But no, wait, the evil Queen Narcissa is *also* a toothpick. And her dragon looked soooooooo much better in the trailers. ASIDE FROM THAT, though, it's a nice, fluffy, fun bit of entertainment. And, OK, I hadn't realized James Marsden was Prince Edward. Oh, and the wonderful character actor Timothy Spall is the Evil Sidekick, which is a nice visual shorthand for the kiddies that first met him as Peter Pettigrew/Wormtail in the Harry Potter films.
Sweeny Todd:
The Demon Barber of Fleet Street
Wow. Okay, this is a really bloody, gory musical (yes, musical) about a guy who kills a lot of people, and his downstairs neighbor, who turns the victims into meat pies she then sells. It's a VERY hard R - you get to see the killing being done, complete with blood everywhere and then some. If you can get past that, this is one of my top three favorite movies for cinematography and visuals (the other two being "300" and "The Matrix") - and OMG, the actors totally rocked it. Johnny Depp and Alan Rickman have always been favorites of mine, and now that she's playing truer to herself, Helena Bonham Carter is amazing. Timothy Spall and Sascha Baron Cohen, too? If there's an award for casting, I hope Susie Figgis gets it. Even Stephen Sondheim is reported to like this adaptation of his work. Tim Burton is finally back on-stride here. Yaaay! Musical horror!!


Because this is allegedly a knitting blog (which is a trick when I haven't knitted since last post), I give you a photo of older knitting-in-progress. Much to my surprise when I found this recently, I was about a third of the way done... which is something, given there's around 260 stitches PER ROW, and it takes FOUR ROWS to get one "pattern" row done... gaaaaaa!!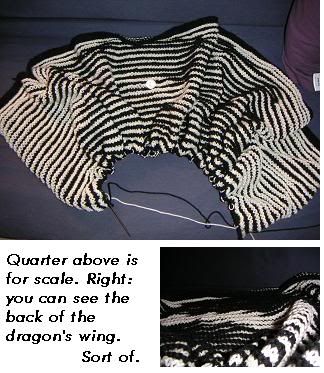 The Dragon Illusion Blanket.
You can sort of see the dragon's wing starting to emerge...