On Friday, I finally ordered my yarn from Sanguine Gryphon. I decided on "The Gorge" colorway (Gaia) over "Moss on Bark" after consultation with my fellow knitters at the office. The hint-of-yellow/orange in "The Gorge" was the clincher. (And yes, I would've gotten "Turks' Cap", but I really, REALLY wanted to be sure I had enough yarn for SotS-II... I was really squeaking the yardage on SotS-I before I found another skein of Claudia Handpainted Silk Lace Pistachio (in the same dye lot!!) out at Knitty-Noddy in Washington.) Even better, I was able to get a Money Order in the main First Thing on Saturday... which means "no credit card involved"!! Yaaaay!!! (I sent it priority mail so (a) I could track it, since I'd really like it to get there so I can get my yarn and (b) so it would get there so I could get my yarn SOON. Very excited about this yarn!!)

Saturday was Doing Errands and Stuff, which somehow turned into buying tons and tons of yarn at A.C. Moore... some cotton I'd been eyeing for some time, some worsted for a sweater for Mom (that she'll be knitting, I know better), some green... and I'm getting a full set of Crystalite circular needles for my birthday, although I'm not supposed to know about those yet. And some Hello Kitty safety scissors. Photos of all the yarn and stuff some time this week... for now, photos of my FINISHED Amanda Scarf and Headband!!

First, the set: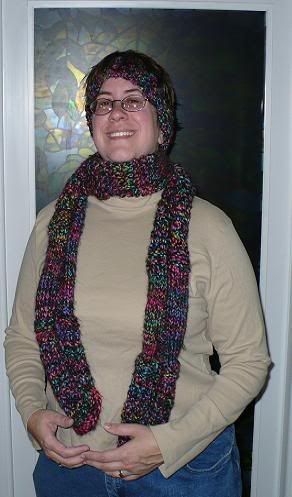 Awww. How cute. It actually *is* really warm and fuzzy!! Here's a close-up of the scarf, so you can actually see there's stockinette sections and the lace-from-the-Amanda-hat section. Ditto on the ear-warmer/headwarmer/not-hat.


See? Little bits of lace
with purl rows.
This is closer to a true
Amanda thing than
the Scarf.

I have all of four inches of yarn left; I had to use the long tail scraps from the other three pieces (the Hat, the Neckwarmer and the Scarf) to finish the ear-warmer, but it worked out just fine.

UFO count now down to 59 again, with 5 projects started in 2008, four of which have been finished, with one project from previous years done. Averaging 5 projects finished a month so far in 2008, which isn't bad! And I have four snuggly Amanda knitted things!

Mmmmmm, toasty!!