Weekend Report

As you may have noticed, I've not been posting. This is due to Illness. I'm not sure I should be at work today, but here I am anyway.

Ended up having a Very Quiet Weekend, in many respects. Had birthday celebrations for my Mom (she got lots of Peter Rabbit stuff, which she adored), painted trim and re-put shelves. Didn't, however, get the decorative film on my new French doors. Got to sit and watch football games a lot, but didn't listen to my Book on Tape (Cecelia Ahern's "There's No Place Like Here", which is a great listen; the reader, Sile Nic Fheorais, has a lovely lilt. And somehow, I wound up with an unabriged copy from the library... I can't see how they'd successfully abridge this book!)

Most fun blog found over the weekend: JenLa from KnottyGirls.com. People don't kill people. People who knit ponchos kill people. I can attest to this: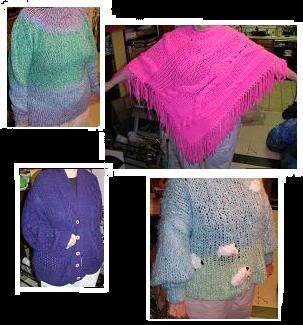 See the hot-hot-eyebleed-pink poncho? The one that's so bright the poor little camera wasn't quite able to make the image of the cables resolve? I made that. People run in fear... and I haven't gotten hit in a crosswalk yet. Not sure what the bodycount as a result of this poncho is as yet. Anyway, started feeling poorly on Sunday, and didn't make it to work on Monday.

Did get some shopping in on Saturday, though. Okay, a LOT of shopping. Saw several cute things that I didn't buy, but will probably make for myself at some point, pictured here.


My friend Christine has one of these in gold.
If it had been just a *bit* bigger,
I totally would've bought this.


This pic is from December.
Saturday, it was on sale, in my size.
It is now MINE.
Cute Red Satin Vest. I really want this, but just can't justify it.
Modeled by Mom.
This was a plain shell, but I just adore the lace pattern!
They didn't have this in anything CLOSE to my size.
But I want one, so I may (try to) make it. At least I'm better at lace now!