Fun Things Found Department: Sanguine Gryphon's Fairy Tale Sock Club. Wheee! This should be fun, indeed! I'm going to sign up after Easter, for certain, if there are still spaces left.

As mentioned earlier in the week ...somewhere (possibly one of the Ravelry forums, since it's clearly not here), I acquired through gift two more balls of Lacette to finish the Travelling Roses Lace Scarf.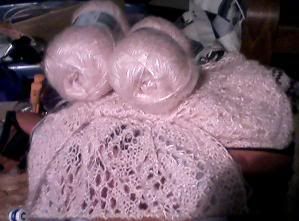 More yarn is all well and good, and, okay, I've spent the time this week that wasn't finishing Haeckelbeutel or starting Titania, getting the scarf finished. But is that enough? Nooooooooo! Because I knitted the scarf on size 8 needles, it's almost a shawl. It just needs a pretty, fluffy border. Rather like the scallop lace on the sleeves and bottom of Titania. And gee, that requires an 11-stitch repeat. Which - oh look! 44 rows (add 1 stitch every 3 and that's 66, or every 4 for 55), and gee, 11-stitch repeat border. Sometimes it really *does* all come together without me even trying. Yay, pretty frilly border! I figure five repeats of the scallop should do it (20 rows of border), and *poof*! It's a shawl!!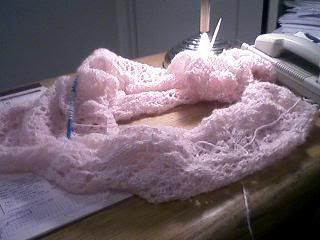 I've started to pick up the edge stitches already. The scarf is five and a half feet long *before* blocking, and sixteen inches wide. Yikes! It also looks like the EXACT same pattern of a shawl I saw somewhere on the internet this morning (if you've knitted something over and over a bunch of times, you recognize it). I can't find the bloody thing now, of course, but it was yellow, and clearly used the roses-and-diamonds-with-roses-at-intersects that the Travelling Roses Scarf uses. It's not this one ((Ravelry link)), although it's dead-on similar, just it had a scallopy edge (like mine will have). It was a picture of the bottom of the shawl and the wearer's feet. It's not the Shetland Rose Lace Stole ((Ravelry link)) either, but I'm sensing "roses within diamonds" is a popular theme.
Who knew?