Well, the UFO count didn't suffer this weekend. The stash room, however, did.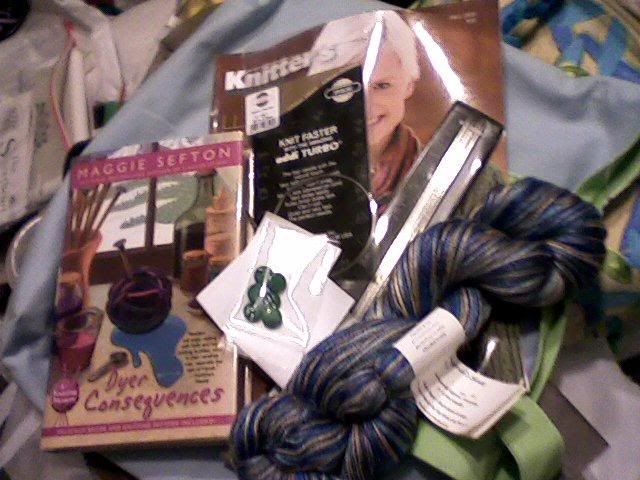 First, the loot from my trip to Uniquities. "Dyer Consequences", the knitting mysteries set in it's-not-Fort-Collins Colorado (in the book, it's "Fort Connor" - but we know where it is). I read the first three chapters at Borders once waiting for my spouse, and now I can find out how it ends! The Fall Knitter's Magazine has several patters I want to knit up, most notably Elsebeth Lavold's Groa (a cute Celtic tabard), Carol Wessinger's Mistake Stitch Coat and Lou Schiela's lovely Renaissance White (which I, of course, will do in orange). I had to get more size one DPNs (I love the Addis!!) and another 12" size 1 circ. Socks are just easier then!! The real find, though, was a beautiful skein of Claudia Handpaints Silk Lace in the "Stormy Days" colorway. I have no idea what shawl it will become, but I love working with this stuff. Yaaaaay!

Now I *did* actually knit and stitch, too. To wit, my finished Star of the County Down Tam! It's tempting to try to figure out a way to intarsia this design so the colors are red-green-white out from the center. Wouldn't it be a pretty pointsettia tam? I may try to do that!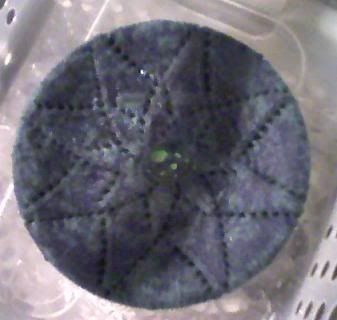 Blocking on a Plate

Finished!


I also finished my little canvas pumpkin. It was a fun, quick little canvas... and it glows in the dark! (My cellphone camera, however, is not so great at capturing glow-in-the-dark. Oh well.)



I got a wee bit done on Secret of the Stole III, also. UFO Count back to 61. So, a good weekend!!