Thanks to curiouskate (a fellow House Cupper), I was introduced to the concept of an Advent Calendar Scarf on Monday. Specifically, This One; photos of the model from the designer here. Tuesday morning, I tried to start winding the yarn, but couldn't find my ball-winder, so tried to go by hand... 450 yards? That's a lot - so I didn't finish until I got home in the evening. Now, since I have roughly 50yds less yarn than called for, I'll be changing the "spacer rows" between the daily patterns - basically 4 rows instead of 8, which, over 23 spacers, should give me enough yarn to finish.



The yarn is Dragonfly Fibers Watermelon Head colorway (the link goes to K's lovely photo of same). I found it over the summer, intending to make some watermelon-colored SOMETHING with it, but realized it was perfect for this project. It's a bit bright (especially the green) for a *normal* person to look at it and go "oh, Christmas!". Given, however, that I usually have some electric neon-green on my person somewhere (especially when wearing a scarf/coat/backpack), I think it will just scream "Christmas" when I'm done with it.

And then, during the day, I thought about it and thought about it. Curiouskate's scarf was fuzzy and soft looking. The Dragonfly Fibers Djinn - while still soft and lovely - is not fuzzy.

I want my scarf to be fuzzy... and that means "mohair content". (It's possible I'm still being charmed by the mohair/viscose ball of Mosco from which I'm making my smoke ring - about halfway done, btw!)

Thus, I needed to hit Fibre Space. And there, I found this: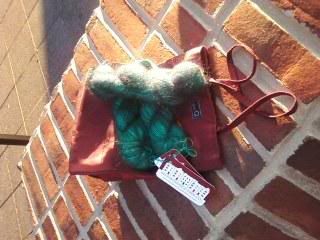 It's four skeins (um, one is a ball and a bit knit up, thus not pictured) of Neighborhood Fiber Co. "Loft" in the Rock Creek Park coloway. It is soft. It is fuzzy. It is a lovely shade of green - which you may notice becoming a trend over here. It's sitting on a lovely garnet-red Della Q Priscilla bag that, um... well, that just sort of happened. I was really just in it for the yarn. Oh - and needles. I, much to my shock, did not previously own a 24" size 3 (US) circular needle! Anyway, solved all that, and spent through March's yarn budget, but it was worth it.

It's Day Eight of the scarf for everyone. I know CuriousKate is caught up, she showed me a lovely photo yesterday. I'd been planning to stay up and at least finish through Day 2 last night, but I totally fell asleep earlier than expected (something about being good and exercising for over an hour last night - ow!). So, a bit more today. And I'll catch up completely over the weekend - I'll be sitting in a moving vehicle while Not Driving quite a while both Saturday and Sunday, with nothing to do but knit!