I'm a practical creature at heart. Thus, my fair-use copy of the little edging pattern for my Lilly of the Valley Shawl is carefully taped, upside down, to the inside lining of the bag I'm toting said shawl around in. When the bag is open, then viola! the chart is right-side up. (Note shawl, festooned with plastic-coated paper clips every sixteen stitches, with extra for the corners, poking up out of bag.)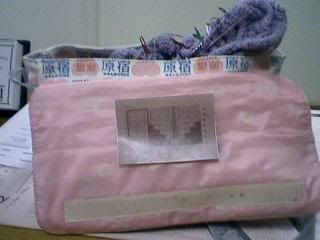 I'm actually starting the 3rd row of 14 for the edging (and I put an additional two edge set-up rows in, just because). Depending on how the weekend goes, there's a chance LotV-S will be ready for blocking by the end of the SuperBowl. Yay!

For anyone syndicating through LiveJournal... I didn't realize the feed was going to dump ten posts onto your Friendslist at once. Sorry 'bout that, and just so you know, I don't post THAT often.

In other news, thanks to the "Resolutions 2008" group on Ravelry (the only group where I'm reading absolutely every message), I know what I'm supposed to be doing this year. I'm doing okay on the health-things - more water, less calories, and eventually I'll be exercising more regularly (stomach flu pretty much killed the last ten days). I'm not doing too badly on the UFO count; I'm at 59 right now, with more things falling off the list soon. Right now, I need to concentrate on getting things framed up to put into Woodlawn. I'm balking at getting set up on DeviantArt and Etsy... the first, because I don't have a bunch of images ready to go up on DeviantArt; the second, because I don't really want to sell stuff I've made, just patterns. Which *is* done on Etsy, but I need a bit more practice first. So I'm gonna pull that off the list, for now, to stop worrying about it. At least I'm almost ready to start putting comics up; I've been carrying a little sketchbook everywhere for the last few weeks, and practicing. I almost have consistently recognizable rabbits. Yay! Now I just have to get the house organized again, and I'll be all set.

Unexpected Warm Fuzzy Department: Ran into the other half of my writing group on the bus last night, and she was wearing the scarf I made her last year. This was very cool; I don't give away much of my knitting, and it was neat to know that she actually gets use out of it!!