The "Resolutions 2008" Ravelry group has an ongoing thread on "how much yarn have you used this year?"

I wasn't sure. I know I used all but 4" of 6 balls of Patons "Rumor"... looks like 16.8 oz, or 1 pound 8oz. Wow. I've already used a pound of yarn by the end of January!!

The UFO numbers so far are doing well, too. I've started five things, finished five things (four of which were started in January), so I'm still at 59 UFOs one month into the year. This is pretty good, for me!

Speaking of Yarn, I got my box from Sanguine Gryphon on Saturday. I'm still all a-twitter at how GORGEOUS this yarn is. My cameraphone just doesn't do the colorway justice - I'll get a better picture if I'm ever not at work again.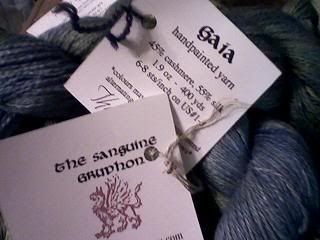 I haven't started SotSII yet,, as I didn't finish the Lilly of the Valley Shawl over the weekend as I hoped I would. I *did* get to watch a wicked good football game (and that phrase right there should tell you which team I was rooting for), and see lots and lots of my friends, which I don't do nearly often enough. I also distributed the first packs of Bacon Salt, which is amazingly yummy... and probably addictive. Don't care, I love my Bacon Salt, and it's gotta be *the* best use of funds from an America's Funniest Home Videos wing!

Hoping to get to go home today. At some point.