Sometimes, knitting can't just be put down and picked up again.

Example: My Pretty as a Peacock shawl... which is no more. I'm going to have to be a bright bunny when I restart it (eventually) and use magical things like "row counters" and the magic see-through highlighter tape my friend Moria got me. What really bums me is I got ALL the way through Chart A, and realized I was horribly off somewhere, so unraveled and started again... and I was almost through (I think) - I just stopped in the middle of *some* row in the late teens, and honestly couldn't tell which. It sucks. I'm also going to ball my yarn - I'd actually been knitting this one with the yarn around my neck, and doing OK. *sigh* So, on Ravelry it's "in hibernation" - in reality, it's off the list. Not the way I want to lower my UFO numbers!

I did finally get a picture of my Secret of the Stole II, in progress. This is halfway through Hint #3: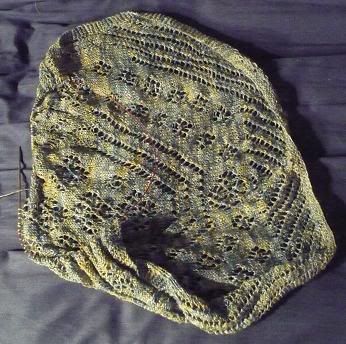 I love love love this yarn. It's Sanguine Gryphon's "Gaia" in "The Gorge", which I'm totally glad I went with over "Moss on Bark" - which also would've been lovely, I'm quite sure, but I really like this. Yay, I'm getting closer to only two hints behind (assuming I can get a ton of knitting done between now and Friday, which isn't going to happen, what with half the secretaries at work out sick and the Spice Girls concert tomorrow night...)!

On the brighter side, I'm thisclose to finishing the third repeat on the Traveling Roses Scarf. It's going to block out to about 18" wide, and it's lighter and fluffier than some of the others I've seen... but I'm using size 8 needles, and it called for 2.5mm. Don't care. It's FLUFFY!!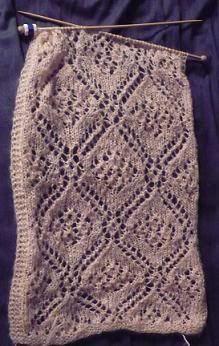 And I'd like you to meet my newest gryphon, Victoria, who, thanks to my friend Cat, was able to come home with me. (I'd been distracted by a plush panda-bear, and had actually MISSED a gryphon sitting within inches of my nose!) She's a puppet, and is able to show quite a range of expression (which is tough with a beak).


She got into the yarn...
...and wants to point out that
the UFO count is now 57.