For Defense Against the Dark Arts, we had
Option 2:
Using Polyjuice Potion
- To gain a better understanding of the strain the impersonator must be under, disguise yourself as someone else by
crafting something that you never normally would
.
My mother thought it would be cute to make "one of those little pumpkin hats" for my niece.
My niece IN MIAMI. This child does not, nor will she likely EVER, need a hat. (Her mom likes heat the way I like cold. The fact we were both ice skaters through high school probably explains why she went to law school in Florida and stayed there!)
There is no way, under any circumstances, that I would normally make a cute little HAT for this child. Toys, yes. One sweater, as light as I could make it. One blanket. Everything else will be toys... but then this class prompt came up.
So, I give you the hat for my niece, which definitely comes under the category of Something I Would Not Normally Craft Under Any Circumstances.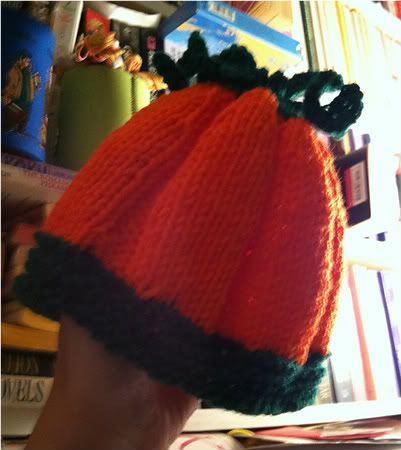 Mom will be sending it down to her, I will be disavowing all knowledge of same. I know better than to knit warm, toasty hats for family in Miami!!