For Astronomy this month, we're studying Uranus. And if a little tiny part of you snickered quietly to yourself and said "she said
Uranus
!!" - then welcome to Slytherin House. Based on everyone's inner ten-year-old, a bunch of Snakes are doing Toilet Paper Roll Covers to turn in
en masse
this month. I can safely say I was always in the anti-TP Roll Cover camp, but I hadn't been exposed to the variety that's out there. Some of them are cute, some are amazingly clever. (Someone's even making a TARDIS.) One of my fellow snakes made this one, and whipped up the "pot" to go with it - it converts from One Roll to Two. So, here's a Cactus for Uranus... (
more giggling here
):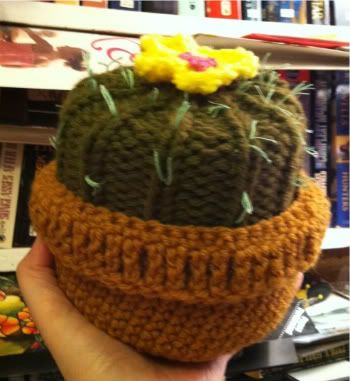 One Roll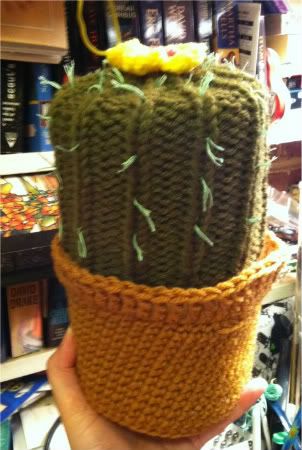 Two Rolls
The pattern was pretty easy. For the pot, KimS just whipped one up from scratch and shared the pattern. I changed it by making my last row triple crochet around - to make it more flowerpot-like.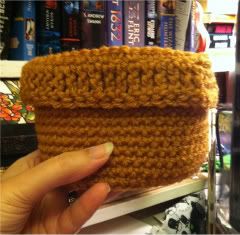 I also opted for just one flower. I'm actually starting to run low on scratchy yellow acrylic - it's going into a lot of projects lately. I stayed at one flower since I ran out of the pink yarn - it's French knots made from the leftovers of my K-Pop shawl.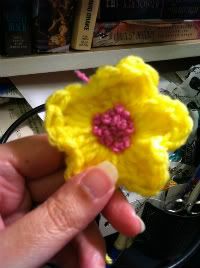 The cactus itself is knit with two strands of Vanna's Choice in Olive (BTW, the pot is one strand of Vanna's Choice in Honey). I know it took 58 yards of the doubled yarn, because I actually had to measure off 30-yard chunks so I'd have two strands! The cactus spines are made from three strands of embroidery floss, knotted (bowlines turned out to work best) and cut off at the tips.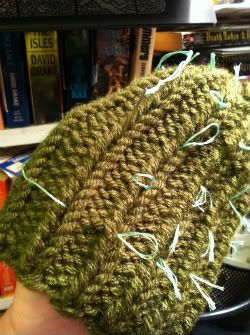 It's a nice little cactus.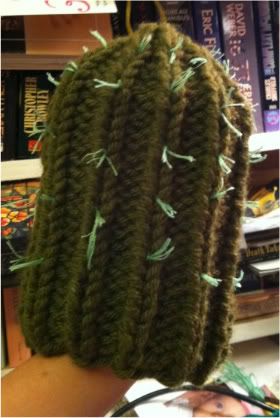 It's a little strange, but I keep wanting to hug it. I guess I should just be glad I've never had that urge around a *real* cactus!!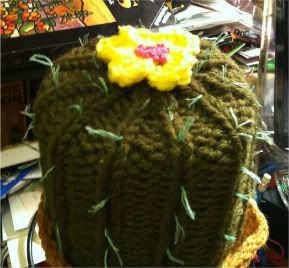 ... and, just for completeness, this is the cover I started *before* I found out about Cacti. I think I'm glad I changed projects; this was pretty, but just not as overall cool as my convertible cactus.