First off, all the new pins are up on Material Whirled!! And there's a "buy one of everything" option (I prompted that). As you may or may not know, I have a little pin addiction. There are also cute buttons, and... SPARKLY ROVING. I'll learn to spin yet!!

Next, I stealth posted another free pattern: my Pineapple Dish Cloth, which I turned in for Herbology on Wednesday (and then backposted the pattern to Tuesday, so it would have a home until I figure out the whole Ravelry/Paypal thingie). Woohoo!!



Then, I finished my little Entrelac was-a-doll-blanket-became-a-Handbag. It came out super-cute, and with the lining & chain strap, it's pretty darned solid. The mega-wonderful fabric store in G'town mall (Exquisite Fabrics, which used to be up on K St) had the chain, the buttons, and the perfect satin cord for the finishing, which, once I started, took about two hours (and only because invisible thread is really hard to see!).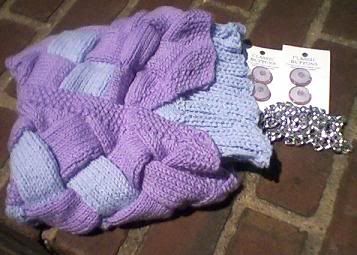 Here is the finished bag:


The lovely Entrelac Handbag

First, I attached the chain to the sides....

... then threaded the two satin cords & tied the ends.

Then the buttons went on.

The inside is knit-side visible (pretty!).

Front

Back

The bag, free in the wild.


I'm going to make another in different colors to double-check materials requirements, etc., and then post a pattern - this time, for sale (since there's a lot of work in this one). It will be the first of a set - I have seven more ideas, and counting!

Now, to the practical stuff: Knitting things I need to do this weekend.
Finish frogging my Rogue sweater. Will restart in August;
Hit AC Moore to (a) use coupon, (b) spend Bonus Points Certificate and (c) pick up everything I need for the conference I don't already have.
Also, get yarn for my TARDIS cowl;
Do the rest of the lace swatches on the Monster Yarn Blanket Project;
Get through at least Chart D (preferably at least one repeat of Chart E) on my O.W.L. (Girasole);
Get to the heel on at least one (preferably both) of my Eclipse Socks;
Finish finishing my Charms assignment/seat cushion, so I can turn in my Charms/Potions combo and scare the Ravenclaws;
Find the charts for the rest of my Hello Kitty reversible illusion scarf, so I can finish that;
Start the little birds for my Dad;
Find the little stocking canvas I started. Make color copy so I can see what I'm supposed to stitch under the raised bits;
Realize that it may actually happen that I finish almost every project I start this year (possible execption: the Monster Blanket); and
KNIT ALL MY HOMEWORK FOR THE CONVENTION!!!!
That should keep me busy.