This week, a fairly common yarn:
Karabella Aurora 8
. This is a nice little workhorse yarn, and comes in 86 (!!) colors. Good, even color, decent twist, blocks nicely. I keep finding balls around the house that match various jackets (delusions of mittens, I think).
Karabella has a nice layout on their labels - easy to find all the information you need. Here's a ball of Aurora 8 I picked up for my TKGA "Basics, Basics, Basics" class: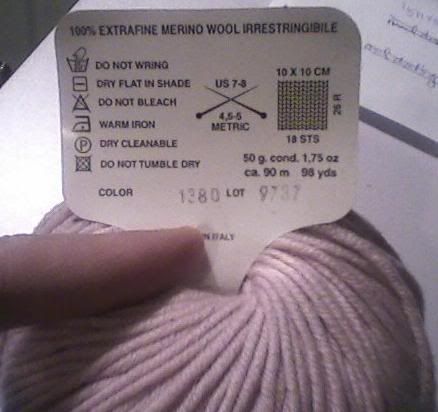 This photo is mine; the rest in this entry belong to those linked to them.
As labels go, this is very easy to read, quite easy to understand. I wish all labels were this helpful. Now, on to what you're really here for: the photos!!
There are some lovely projects to look at out there. For example, frecklegirl (Fearless Founder of Ravelry!) knitted a lovely nontraditional-colored
wedding stole
from it! Love!!
| | |
| --- | --- |
| AnnaForsyth [Ravelry ID] knitted a lovely Pink Leaves Scarf. I'm amazed at how this yarn can look both very solid or quite lacy, depending on the pattern. Like I said, a good little workhorse yarn. Isn't this a cool photo she took? I like the idea of draping it over a branch. Looks kinda like a cherry tree. Which makes sense, since she's DC-local: | |
| | |
| --- | --- |
| | Here's lovinmoment's Amanda's Flower Scarf - the pattern is Garden Scarf (by Michelle Ameron, from Stitch 'N Bitch Crochet: The Happy Hooker). I think Heather did a lovely job, and hopefully Amanda really likes it! |
| | |
| --- | --- |
| Knitloon knitted a lovely Aran Sweater from it (go check out the rest of the photos here [Ravelry link], it's lovely!). The pattern is the "Garter Stitch Aran Cardigan" by Tara Jon Manning (aka tarahandknitting.com), published in Men in Knits (Interweave Knits, Fall 2003). | |
| | |
| --- | --- |
| | Mo (aka brainmissing, knits a LOT of tams - and they're all lovely. (Check out her Ravelry page, too.) Here's her interpretation of one of the Three Tams, pattern from Knitty. Lovely! |
| | |
| --- | --- |
| Greeneyes (Laura) knitted socks. Nice solid socks! She developed the pattern using the Sole Solution Sock Design Program. How cool is that? Sock design software!! (See, we're not just about the yarn here at Yarn on Thursday. We're about all the cool stuff to go with the yarn, too!) | |
| | |
| --- | --- |
| | Pyra designed and knitted a "Justice League Scarf"... which is so amazingly cool I (a) want one and (b) will actually learn to double-knit so I can have one of my own. Granted, she used other yarns than just Aurora 8, but it's mega-cool, so it gets spotlighted anyway. Her Blog is subtitled "and One Geek to Stitch them All", which made me immediately add it to my reading list. |
The incredible range of things that can be made from this yarn - and as you can see, that's pretty much "everything" - is what makes it so great. Lace, cables, colorwork... you name it, this little yarn does it! (And no, I'm not in any way being paid or compensated by Karabella for this post. I'm just a fan.)