Claudia Hand Painted Yarns - Silk Lace

When I first started knitting, I couldn't touch woolly things. My hands would turn red, the hives would start, the watering-of-the-eyes, the whole fun allergy thing would take right off. Mind you, I figured out how to knit in gardening gloves, because as long as the stuff didn't hit my skin, one tiny Benadryl would keep the rest of the symptoms at bay. Over time, I self-inoculated (like allergy shots, just on the outside), so I'm about two years short of being able to hug an actual sheep. Yarn just doesn't bother me any more... but back when it did, I wanted to learn to knit lace. Specifically, I wanted to knit The Peacock Feathers Shawl by Fiddlesticks Knitting.

Here's Malle from Estonia's finished shawl - she did a lovely job!! I wish I read Estonian (?) - her trip to Egypt looks *really* cool, and her lace is beautiful! I mean - this shawl is going to look AMAZING in my "Ocean Depth" when I finally get it finished!



Not done in Claudia Hand Painted Silk Lace - but OMG, it's gorgeous!!


Every yarn seems to have The Project That Started It All, and this was It for me. I actually tried it in acrylic (!), and it wasn't working well. (I did, on the other hand, get the hang of reading a lace chart and left- and right-leaning increases and decreases, which are very easy to see in acrylic yarn, so if you're teaching someone, that might not be such a bad idea until they "get" it.)

Now, in the world of lace-yarn, there aren't a whole lot of completely sheep-free, goat-free options out there, but of those, my favorite was this:



"Ocean Depth" Colorway


(Note: DO, definitely, without-a-doubt, take the time to ball up this yarn before knitting. You can only get about 100 rows by having the skein draped artfully around your neck before something will happen (bus ride, revolving door, puppy, curious neighbor-child) that will make you strangle yourself by accident. It takes a while, but less time than it explains to everyone you know what the funny marks on one side of your neck are.)

This is an "expensive" yarn per skein - in early 2009, a skein goes for around $40 in my neighborhood. However, one skein will get you an entire shawl. So, as most projects go - it's not expensive at all! It's pretty popular out there, mainly for shawls, since "lace" is usually a shawl-thing... and I don't see "silk tablecloths" coming into vogue any time soon.

Becca in Sonora [Ravelry ID] did the Phoenix Rising shawl out of it, and has what has to be THE COOLEST triangular-shawl-blocking-system EVER: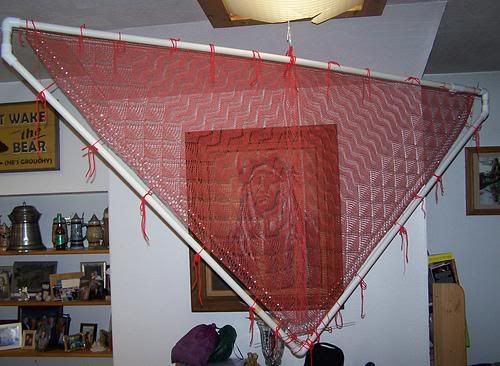 Becca's very cool photo of her very cool blocking!


Aubra is doing her Adamas Shawl in the "Purple Earth" colorway.



Ooooo, the pretty!


I'm making my Tiger Eye Shawl out of it (... hm. I need a more recent photo, this is actually much further along):



"Ingrid's Blue" Colorway


... and eventually, I'll get back to my Secret of the Stole I, which I've now frogged twice - not through any fault of the yarn, I should add!



"Pistachio" colorway


Jen made the Lilly of the Valley Stole from Lace Style (I've made this) in the "Wisteria" colorway, and took the coolest photo of it... I love the shadow of the lace:



It's not just shawls, either. Barrista [Ravelry ID] made the Stone Path Hat from the Winter '07 issue of Interweave Knits: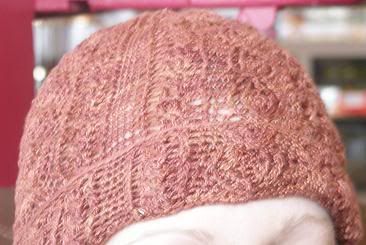 A silk hat - how cool is that?


Adrienne [Ravelry ID "Asappa"] made Judith Durant's "Alpaca Warmers", from 101 Designer One-Skein Wonders:



Silk gloves. I think I'm in love...!


For her mom, Webhil made Sherry Xie's Traveling Fern Lace Scarf (free Ravelry download!) (see her etsy page):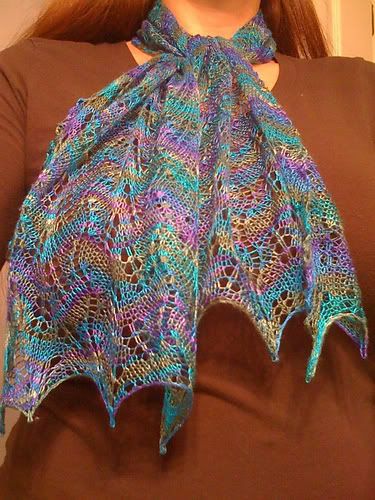 Erin [Ravelry ID "AsilomarKnitter] decided to frog her Perfection Wrap (from More Big Girl Knits), but I'm glad she took this lovely photo before she did: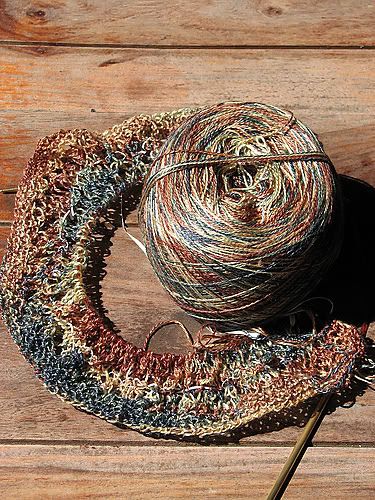 The depth and the intensity of the colors Claudia gets in this yarn has to be seen in person - so look some up if you get a chance. While Uniquities in Vienna, VA usually has a few skeins on hand, I've discovered that if I'm trying to find a particular colorway, I have the best luck getting it through Knitty-Noddy, out in Washington state (follow that link to see ALLLLLLL the pretty colors!!). Friendly, helpful, and willing to special-order (which is really what I'm looking for in a lovely on-line yarn store).

That's it for this week, hope you enjoyed the pretties!