THIS JUST IN: Wendy is running a contest to win her copy of Knitting Noro! Go! Comment on the appropriate entry, and be entered in the Randomly Generated Drawing!

If you haven't seen the Colbert Report's segment on Subersive American Knitting and how it's attacking the very symbols of our Great Nation, go directly to the Colbert Nation Archives and watch. (I hadn't thought of passing this on until the Daily Chum did... so, heck, good idea. Here you go.) Ooooo, we crafters. We be BAD.

And knitting is TOTALLY "in", subversive or not: Check out the giant Yarn Ornaments at the Starbucks GW: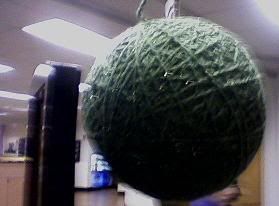 And then, down on the waterfront, wreaths on the door: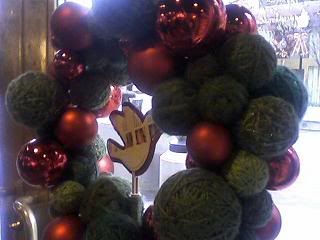 The wreath on the M Street Starbucks door isn't faring so well - it looks like two of the balls caught on something and started to unravel. On the interesting side, the wreaths are made of actual balls of yarn, not just yarn wound around a styrofoam ball or somesuch. But for the quickly unraveling wreath, I'd have thought they weren't made of real balls of yarn, and they are!

In I want to start it now, but I won't: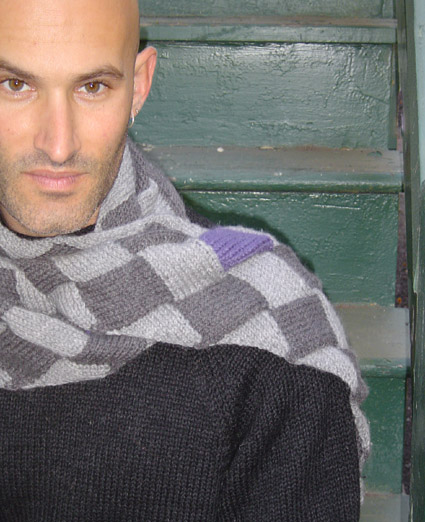 This is Danica, from Knitty.com, and Zoe Gladstone's great photo of Jesse Loesberg wearing same. I've been meaning to make my husband a nice fuzzy warm scarf, and I've been hiding two balls of Feza Cyprus Mohair in my desk at work for about a month now. I've also been meaning to try entrelac, and I'm OK with not having two colors to go back and forth (it's really all about figuring out how to do this 'entrelac' thing. So, it's possible that I may snap sometime before the end of the year and start this scarf. I'm hoping I won't, though, for the lowest possible beginning of year UFO number!