I just looked over my giant list of projects (the 63 that are left on it as of today, anyway), and I noticed something. I started quilting in 2001. And I've finished a grand total of TWO of the ten quilts I've started since then. (And they're tiny - a Halloween wall hanging and my kitty lap quilt. Seriously, clickly on the kitty lap quilt link. I'm really proud of this silly finished thing!) Anyway, I should try to finish at least one quilted thing this year - since I finished the last thing in early 2007!! The only problem is that, but for the Christmas Chessboard, they're all too big to carry around. Which, pretty much, tells you which one I should be working on. But... you guessed it, it's lost in the house. It's probably in one of my knitting bags... but it's TINYsmall, and fits flat in a small Zip-Loc baggie. *Sigh.*

Yesterday's big hunt was for this:



I found it Sunday at A.C. Moore - one ball. I need two, and I'd like to have three just to be safe. I put in an order; that store is out, and can't get it from its sister store, which is also out. Off to the internet, where I got results like this: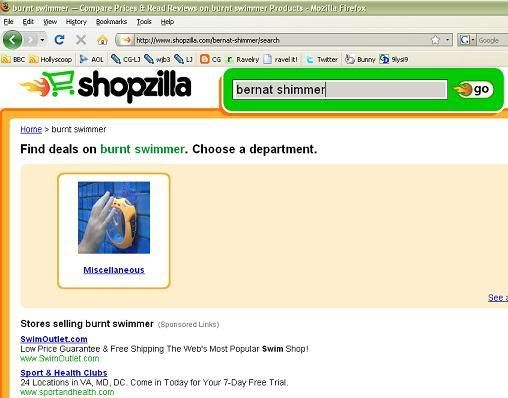 Burnt swimmer....? THAT's more likely than what I put in???


Not terribly helpful. And yes, I checked the Bernat site... where this isn't even a DISCONTINUED yarn!! The A.C. Moore site? Never heard of it. The very ball of yarn that I'm staring at RIGHT NOW is the only one of its kind on the planet. (It's clearly labeled: "Bernat Shimmer", 300g/10.5oz, "White Twinkle" B#W204145, made in Taiwan, packaged in Canada. There were fifteen balls of the blue, red, purple and about 10 of the green and brown each... and ONE of the silver/white that I wanted. I mean, c'mon... I just need about 300 more yards. That's half a ball. (If anyone happens to have a skein that they'd be willing to part with, I'll pay shipping & whatever you paid for it, just let me know soon before I figure out where the entrace to the Bernat Black Hole of Yarn is.) Did, however, find out that Bernat's Glow in the Dark Yarn still exists.

At this point, I've e-mailed the company directly with a request for ANY information they could give me about this mysteriously appearing yarn.

And, just because, a pretty picture of the C&O canal on the way to work yesterday...