Last Friday, I was released from work and ran to The GAP, where they had one (1) of the sweaters I wanted left in my size. I forked over actual cash, in an amount that, previously in the year bought me four pairs of jeans, a t-shirt and two new messenger bags. I don't buy first-run mall clothes very often, can you tell? But I just had to. I mean... it's ARGYLE. In hot pink, orange and yellow. On a soft heather background. I saw it in the window two weeks ago, and was hoping they wouldn't be gone by the time I got there, and they weren't!! (Plus, in DC - no tax on clothing right now!)


| | |
| --- | --- |
| The Sweater | Me wearing same, with halo |

In the things-I-want-but-really-just-can't-justify, I think I've found this year's winner: a set of size 1 STERLING SILVER dpns from Celtic Swan. Oh, they're lovely, and they'd be sooooooo useful, since if it's a sock or glove, I and my loose gauge knitting style will be using size 1 dpns.


(Shoulder Devil: "Oh, so pretty!"
Shoulder Angel: "Oh, you so don't need them!"
Shoulder Devil: "OH, SO PRETTY....!")


Fortunately, there's the much more affordable (and practical) Keychain Crochet Hook from Scout Swag.



Although.... my broken G Crystalite could be filed off and drilled.... hmmmmm.... (No, you don't want to know how I broke a nigh-indestructible acryllic crochet hook. You really don't.)

And, just because, today's t-shirt, with the phonecam: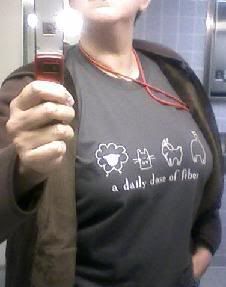 Yeah, I got my Ravelry swag.