You know my friend D, at work, who does all the lovely crochet stuff? I finally got her wedding sampler off to the framers this weekend. It's been finished since... May? June? As yesterday was her anniversary (SECOND anniversary), I wanted to at least have some progress to show her.



Final pics will follow when it's back.

So, two days left to finish stuff. As of Sunday night (a long Sunday night, capped by my poor Denver Broncos choking horribly in San Diego), I had this much done on my Barbara Thompson Tiffany Wisteria Window:



The whole first panel is completely done, and is the densest, stitch-wise. Hopefully, this will just zoom along and be done shortly. *And* early enough that I actually sleep over the next few nights. (There was a slight problem with "sleep" during Friday evening, which turned into 3am Saturday morning, because I was NOT going to bed until that dratted Hammock Kitty was finished!) Here it is as of this morning - all the dark purple metallic is done (yeah, my wisteria is sparkly and irridescent), and a chunk more of the light purple:



Really, more is done here...


In the likely-to-be-the-first-finish-of-2009 category, we have my Fairy Tale Sock Club I #2 socks, The Fisherman and His Wife: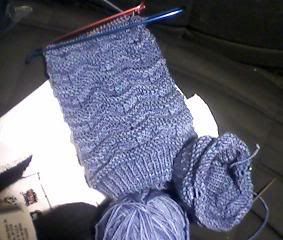 I'm doning each section of the sock on the first sock, then the second sock. This seems to prevent any trouble with Second Sock Syndrome for me.

I might actually end the year with 55 UFOs - which was halfway from where I started 2008 to my goal of "under 50". Squeal!