I did get something accomplished this weekend. One, my holiday shopping is done, and the important boxes (for the under-fifteen sets) are off in the mail. There's still a wee bit of wrapping and mailing to do... but it's under control. (I'll keep telling myself that.)

On the knitting front, I really surprised myself. I put on my Atlantis CD Saturday afternoon, preparing to get everything wrapped... and the music made me pick up my Fariy Tale Sock Club #1 third sock pair, "The Magic Turban, The Magic Whip, and the Magic Carpet". By halftime of the Ravens/Redskins game last night, they were done, and my dear husband managed to get some pictures. (With me almost falling off the couch once or twice as he said "okay, move just a bit to the left... turn your knee... okay, hold it there..." usually followed by "ARE YOU OK??")

First, I finished the right sock: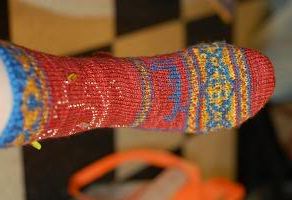 Lovely, yes? Then, the second... the beaded section flew by, and then I was on the cuff. For which I had a lovely new perfect-for-size-1-needles shiny green safety pin as a stitch marker. See?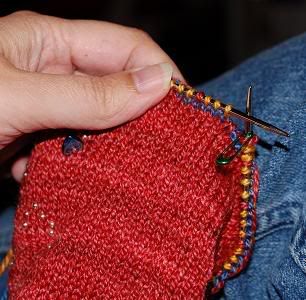 Now, the finished pair-of-socks photos:


Two Socks
Bottom of Socks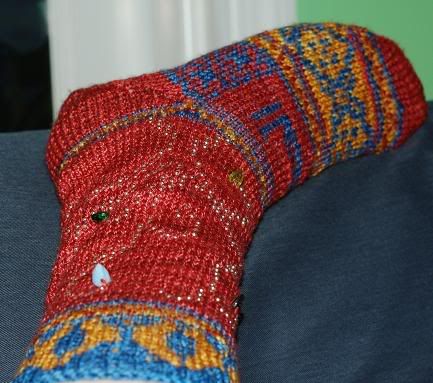 Beading on Side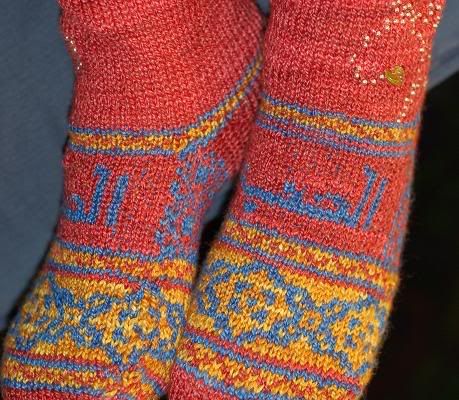 Love, rightside up


I'm pretty excited that these are done, especially since I hadn't been expecting to work on them at all this weekend. But *Poof!* there they are! (I may also be the only one who's finished these - other than the designer, which is kinda cool.)

And, much to my joy, my size 1 Addi circs are now freed up for the Ninja Mitts. So those will be going even FASTER. Woohoooo!!