I finally did my OWL swatch for the
Evenstar Shawl
. The yarn is so soft and fluffy and mohair-y... yeah, I'd better not make any mistakes. It doesn't TINK well, to put it mildly. But, on size 3 needles, I was to get a 6" x 4" swatch and I pretty much nailed it. Once I got the hang of the kfb4-k2tog and kfb7-k3tog stitches, things went (a bit more) smoothly.
I added beads to the shawl, too. I wanted them to be *subtle* accents, and they're so subtle they don't show up well on camera. They twinkle ever so prettily in RL, though, so I'll be using them. Three thousand of them, evidently.
I can also use this swatch to turn in for my "S"-is-for Swatch tile in STUFF.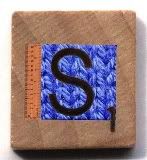 Which will leave me with the "F" for Fix, and the "T" for Tidy. Still have some work to do on both of those!!