In actually-I'm-knitting-really-I-am news, I started AeRang by Jolene Mosley last night. Got through the first chart before bedtime on Wednesday, which was probably foolish, since I'm incredibly sleep-deprived already, but teh knitting crazy got me.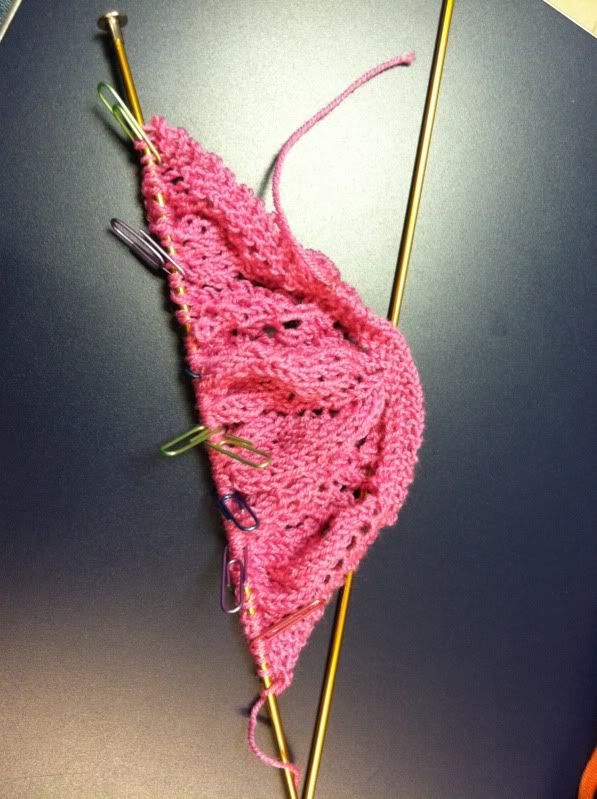 In HPKCHC news, Cue the BOUNDLESS EXCITEMENT!!
Dear Students,

Congratulations! You have been selected to undertake a journey of personal growth and crafting prowess. I am pleased to invite you, the students (and NQFY and SoSs) of the HPKCHC, to the inaugural gathering of the Order of the Phoenix. Those of you who choose to accept a mission with the Order will undertake a variety of duties and assignments to thwart Death Eaters, He Who Must Not Be Named, and all manner of crafting gremlins and forces of evil.

Our purpose as a school is to foster growth as a magical community, as well as provide the best in magical crafting education that we can, by practical courses. The Order of the Phoenix missions will test your skills in magical applications lasting more than one muggle month and up to two muggle months (ideally, 6-8 weeks). You may join the Order and carry out one task each term. You may simultaneously sit for one OWL or NEWT each term, if you choose. Order missions will teach valuable skills in magical clandestine operations, and completed missions will earn 100 points for your House. Students, NQFYs, and SoS who complete Order missions will earn that term's badge.

But membership in the Order is not for the faint of heart. As in our other Advanced Studies courses, simply achieving your goal will not complete the objective. If you choose to join the Order and undertake a mission, you must report your plan to your Mission Chief before you begin. Mission Chiefs will be looking for plans full of cunning and bravery. Be careful with specific details lest your owl be intercepted by our enemies, and be prepared to remain in contact with your division throughout your mission. Your Mission Chief will approve your mission and after receiving and replying to the prearranged signal from the Order Commander, you may begin.

That's all I can say for now, as Hogwarts business is calling me away. Watch the skies for post owls carrying further instructions. And… good luck.

Needlesnswiffers
Headmistress of Hogwarts
The HPKCHC folks are doing a really wonderful job of keeping things new and fun and interesting. I'm definitely going to be staying a few extra years for post-graduate work...