So, I got my first letter for Wizarding Scrabble pretty quickly. I went for "Frog", as every day since Sunday, I've frogged THE SAME PROJECT. Saturday, at Nature's Yarns, there was an unexpected (to me, since I didn't get the e-mail at work) Open Box Sale. 25% off anything you got out of the Open-But-Not-Shelved yarn boxes in the back room, 30% off if you bought an entire bag of something! I only bought one small ball of Rozetti Yarns' "Marina" in the Galaxy Colorway. I hit their website, and got the video instructions on How To Knit Mesh Yarn. It didn't seem too bad. So, Sunday, I cast on 150 stitches, and got about halfway along the third row...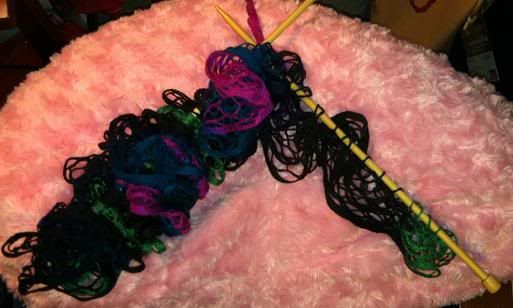 ... and decided to frog it. It wasn't being floofly enough. RIIIIIIIP! So, I tried just eight stitches, back and forth the next morning, quickly, before work.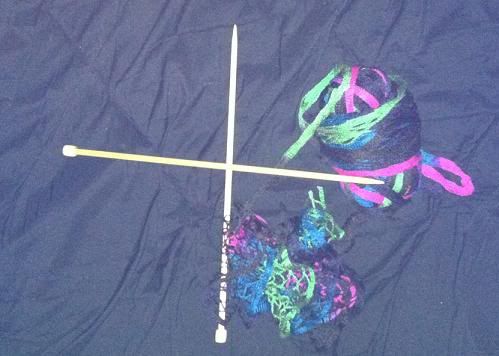 Didn't care for that either, so RIIIIP! again. Then, Monday at lunch, I had the idea of doing ten stitches, but doing angled increases (k1m1 at the beginning of every right side row, k2tog at the end of every right side row).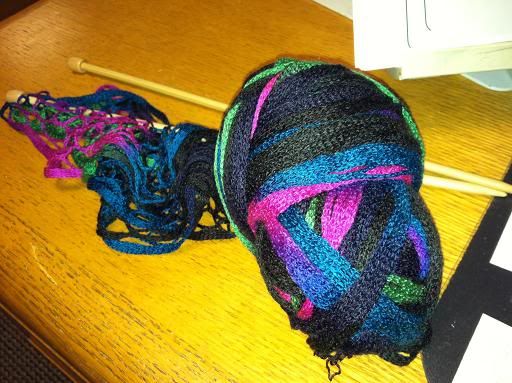 Well, that didn't quite work, either. RIIIIIIIP!! Here are my lovely little needles, and the danged ball of yarn, all frogged. I may - or may NOT - give it another go this week - three frogs is enough!!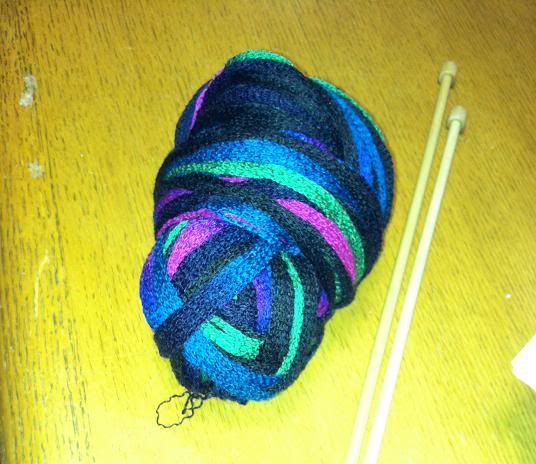 So... gimme an "F"!!