First - OMG.
It's my Blogoversary
, which I totally wasn't expecting so soon (no idea why, I can see the countdown-counter as easily as you can), so I don't have anything planned for it. Sorry, loyal readers! I've actually had the blogspot blog for four years now. Wow. (And the LJ one for two years before that. Wow.)... it really is helping me keep track of my crafting, that's for certain!!
Remember yesterday when I mentioned, briefly, my "T"-is-for-Tidy tile? Well, I took hours (and hours) clearing out all the places-that-stash-shouldn't-be in the house, and lumping the results into a pile in one corner of the dining room (which isn't actually big enough for a table or anything, but the people we bought the house from used this room for dining, so that's what we call it. Another tradition that has no real meaning in current day!). Here are those results: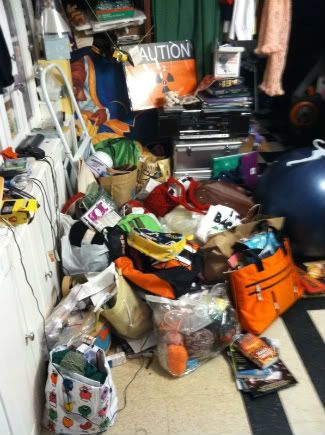 Yeah, I know, it's pretty bad. OTOH, I found a bunch of projects and yarn that I'd thought I'd lost. Like the fuzzy yarn to make an entrelac hat to match my Danica scarf, and the third skein of Starry, and that other bag of cotton yarn for facecloths to knit for Christmas, and all the yarn for my
New Angle
Afghan.... yeah. I don't need to go yarn shopping for quite a while!