It wasn't just TKGA knitting over the weekend, oh no it wasn't! In addition to getting about halfway finished on the second incarnation of my husband's Christmas Trilobite Hat (yes, it's deadline knitting, I'm getting better at that), I cast on a scarf for Orphan Foundaton of America's Red Scarf Project. The first attempt was some worsted Red Heart yarn, and it was deemed Way Too Scratchy. The second attempt was some lovely, soft Hometown USA in Cincinnati Red on size 7 needles - it wasn't very scarfy. It knitted up being a bit too stiff. The third attept, which has been much more successful, was on size 15 needles, and worked much better: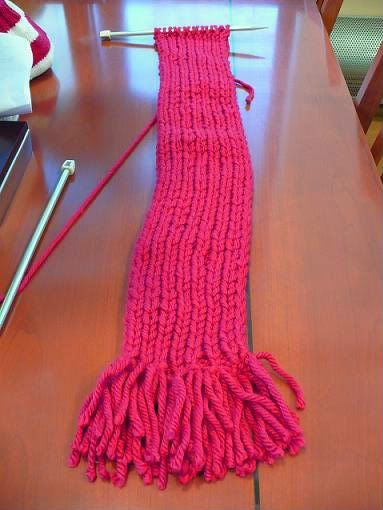 It's just a bulky yarn, not super-bulky (I think that's what the tag said?), so hopefully it will be acceptable. It's soft, and warm, and made with love, so I think it'll be okay. I knew about this yarn (which I sent my poor husband to get, by himself, bearing only this: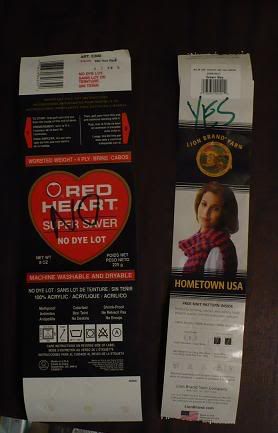 He was able to score ten balls of HTUSA, and it looks like 2 balls = 1 warm fuzzy scarf. Going yarn shopping when you're not the picky knitter? This is a sign of True Love.

I should add that I didn't just pull this yarn out of a hat: I'm using various colors to make some Super-Simple Bedsocks (and I promise, the pattern will be posted eventually). They're actually about ready to assemble, i.e., much further along than in this picture.... but that requires good lighting, so probably won't happen until Wednesday, if then. But really, pattern, soon!