Finished something else, too, whilst on vacation. The Trilobite Hat!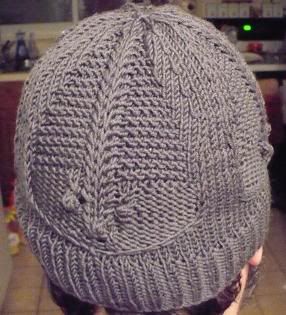 It was supposed to be a Christmas present for my husband, but he looked cold, so I gave it to him early.

Now, you may have noticed a finishing trend going on here - it's true. I'm finishing things - and being so close to 50, it's been pretty easy to keep myself from starting anything major (although there is a little Mill Hill Bead Kit that I'm carrying around, ready to start just after it turns to January 1, for the New Year's Free Stitch). As of Right Now, I have 51 UFOs, two of which are a Super Simple Scarf for me (max of two commutes to finish) and the seaming - JUST THE SEAMING - of my Super Simple Bedsocks. So, my goal for next week is to have a two Super Simple Patterns for you... along with my UFO count which, after many (three, at least) years of the SAME New Year's Resolution, will FINALLY be .... UNDER FIFTY!!!!!