Okay, so, there's been some progress on some things, mostly swatches. But for things that aren't swatches, here we go (guess which one was taken with the *good* camera):



Before (same you saw last time)

After (ALL the red is finished)

Clapotis is still the carry-around. I'm getting so a day's worth of commuting = one more set of dropped stitches. Which means the end is probably in sight, somewhere. I have no idea how much more yarn I have (maybe the "three balls into one" thing wasn't the best idea, but it makes the thing SOOOOO portable!!), but I think I'm close to the halfway mark. Anyway, here's what I've got, stretched out on the Honkin' Big Marble Table in the Library at Work: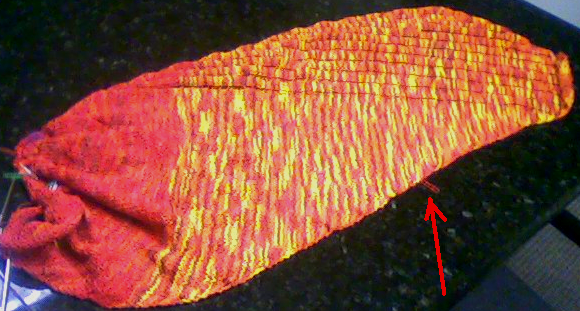 The little red paperclip (where the arrow is pointing) is where I have to get to, dropped-stitch-wise, to start making the Other Pointy End. I think I'm almost halfway finished with the scarf, since I've dropped stitches past the vertical of the paper clip, and I've "turned the corner" on dropped stitches at the pointy end. I really like the colors here. The other pointy end will have the yellows in it - I'm hoping it looks vaguely like firey wings if I do it right (and you squint a lot).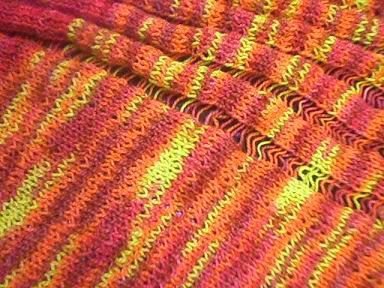 I've also been working on the Master Level 1 stuff; I've got 10 swatches done as of this morning, and will probably be reknitting only three of those. Hey, it's all progress!!