Um. So I discovered that I'd done one of my swatches wrong, so I had to re-knit that. (At least I noticed BEFORE I submitted!) Twice. Because I kept getting interrupted by Lego Star Wars while I was knitting the first one, so I can definitely say it is NOT my best work. This one, done Wednesday night, though, is.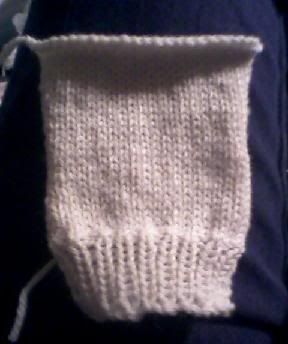 Um. Hat. The hat is underway. I actually had to reprint the first page of hat instructions, and circle each "10 rows of..." and number it to make sure I had Enough Rows. For some reason, reading the instructions in a paragraph just wasn't working AT ALL, so I had to make my own list. Anyway, there has been hat knitting. I actually made it up to the final white part (color change 5, for stripe six), so now it's all about the decreases. And the Techknitter Article about actually getting a flat hat-top. Which is for ribbed hats, but still, flatness is desired. Except I have to follow the instructions on the pattern... so nevermind. I'll hide the middle of the hat with the pom-pom.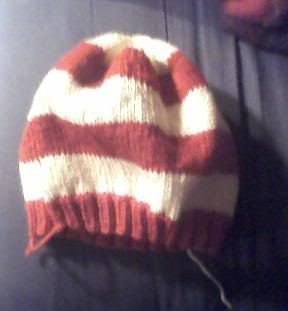 I think it's to gauge - I hope it doesn't "grow" during blocking!


Um. Clapotis. I've been carrying it around faithfully, and doing nothing about it.



Um. Because of the Knotty or Knice socks I accidentally started after I accidentally went into A.C. Moore last Friday night and accidentally picked up three balls of Patons Kroy Sock in a lovely soft kitten grey and two sets of size 2 dpns (also an accident) and the yarn just ATTACKED and jumped onto the needles, even though I hadn't found my copy of the magazine yet, but I figured it it out and suddenly I had half a sock and more, since I long ago learned to knit both socks at once to avoid Second Sock Syndrome.

Anyway... socks!!


Cast on two at once... four times.
Eventually decide that you actually want a short row toe anyway.
Get two short row toes that actually fit.
YAY!!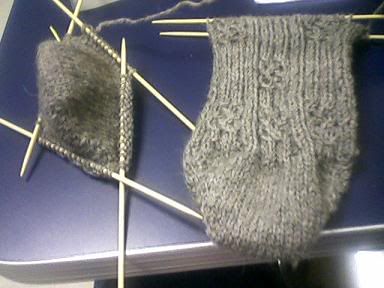 Got one sock up to the heel, and the other's getting there...


Hopefully, I'll have SOMETHING finished by next Friday, or I won't have actually finished *anything* in July, which will totally kill my monthly average project completion stats!