First off the bat, I must point you to THIS:




(Thanks to Mt. Mom for pointing out the link!) It looks like Level 1 is an older version that the one I'm doing, but it is still *so* cool to see all the pretty swatches and projects, and to realize that no, my binder is about as thick as everyone else's. (Well, as at least one other person's.)

I have all my swatches. I have a binder, with pretty page protectors. (Top loading pages for the paper; side loading pages for the swatches. The paper is unlikely to spontaneously fall out; the swatches might. Ergo, the swatches can only "fall" into the inside of the binder.)

Other than finishing up the swatches once and for all (until, of course, I get them back for re-knitting), it's been all about the hat. Since I've been knitting everything on bamboo needles, and have a pretty good idea on gauge therefor, I'm knitting on bamboo DPNs. Here is the hat as of Friday: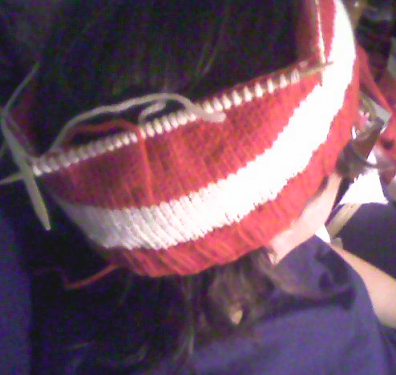 (It's kind of a challenge to take a picture of half a hat while wearing it.) This week, the plan is to try to finish the Dreaded Hat, pray that it doesn't change gauge when I block it, write up the tags for all my swatches, and start assembling the binder with all its parts. I need to re-re-knit my Swatch #15, using only the pattern, and see if what I get looks exactly like what I knit before.