As part of the Help Decorate the Fibre Space Holiday Window, I made a
Rocket Ship
(which then got featured in
a story
, which then got featured as a
photo on Ravelry
!). For helping out I got a prize - two, really!! A gift certificate (thus ensuring I'll be back to Fibre Space... as if there was any doubt!), and a copy of "
Pure Knits
" by
Yahaira Ferreira
(Lark Books). It's full of
lovely patterns
(Rav link)! I think the first one I'll do is Ice Queen, I just have to decide on the yarn. Orange would be very "me", but would it work with the pattern?
Then, I also adore the cover look, "Chains of Love". That's getting done in two colors, at least - and the cables and chains are TOTALLY getting done in silver. Hello, soft, cuddly steampunk!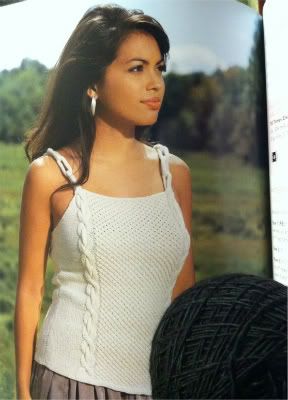 There are a
*lot*
of lovely patterns in the book. Aran sweaters. Light, lofty lace things. Even lighter, loftier lace things. Hats. Scarves. Cute things for tykes. I really think Ice Queen will be my first thing knit up, though!