... and a few more Future Projects.
Violently green Neighborhood Fiber Company Loft, one ball; kid/silk mohair blend by (dang, can't see the label in the picture), about 450 yards.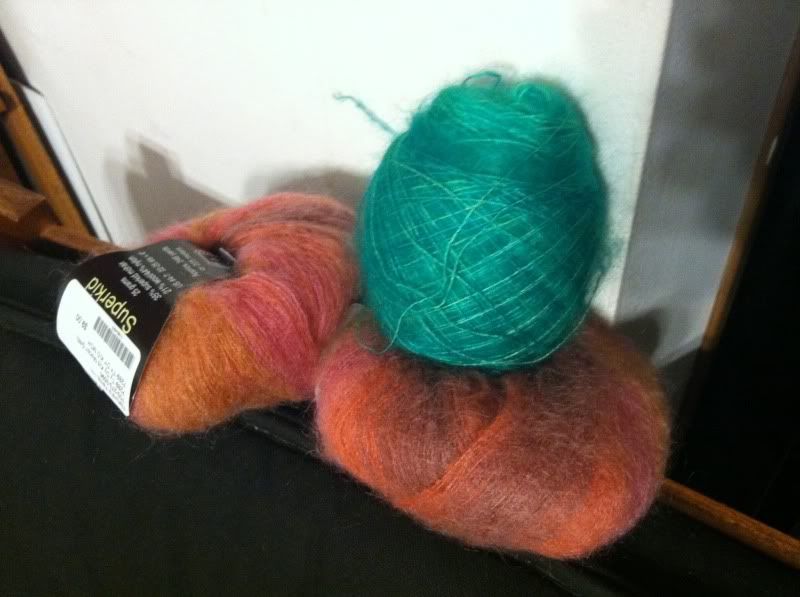 Destined to become a
Wisp
, in the case of the NFC Loft, and an
Ice Queen
in the case of the kid/silk mohair stuff... or possibly vice versa. I think maybe vice versa... we'll see. There are a lot of lovely photos of these projects out there, but I think my faves for Ice Queen are over
on MangoFeet's blog
; my fave for Wisp is
Cecilia
's, because I can really see what it's supposed to look like!
Royal purple Neighborhood Fiber Company Penthouse Silk.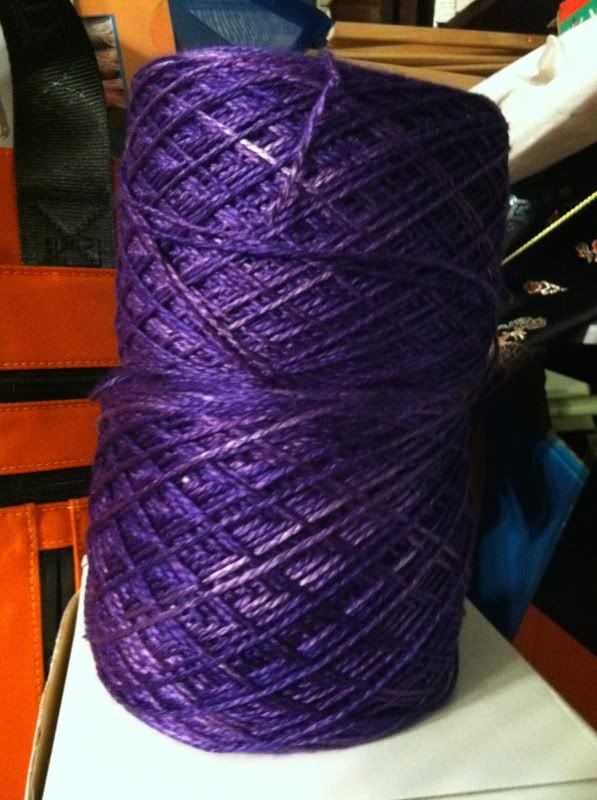 I'm thinking the
Elizabeth Shawl
for this. But possibly as the first
Secret of the Stole
; I tried it twice before, and the yarn I chose in turn chose to NOT be that stole. A rich royal purple might be more appropriate...
orignal attempt - Claudia Handpaint Silk Lace in Pistachio
Some fluffly boucle, and lots of it.
I got this because I just loved it. It's soft, it's fluffy. Long, long ago, I made a diamond shawl out of some similar stuff in a nice coppery color. Couldn't tell you what happened to the shawl (it's probably in a box somewhere), or the pictures I had of it (can't find them on the old LJ craftblog, so they might not exist). What to do with this new stuff? NO IDEA as yet, but something fluffy, for certain!
I looked through Rav to see what sorts of things were made with Rainbow Boucle - and there are 1700+ projects in progress or done. The likely candidates are the
Seraphina Shawl
(free pattern over at Crochetville.Org); a take on Harlotry's
Ripple Afghan
(Rav link); a top-down quick dress (I'd make it a tunic, instead) like
this one
at ABC-knitting-patterns.com, or a
star afghan
(Bernat link, free, but requires login). Right now, I think the top-down dress/tunic is going to win, since it wandered into my queue.
Now, mind you, there are also about four dozen things I have to finish - I'm still trying to get The List down under 30. Next year, of course. It's not gonna happen in 2011!!!