It's the new year, woohoo, and HPKCHC classes have started! I've begun three projects so far - the Granny Square Afghan WITH FLAMES, a set of WIP-tracking Countdown Blocks WITH FLAMES, and this is likely to be the first thing finished - a Cool Hat WITH FLAMES.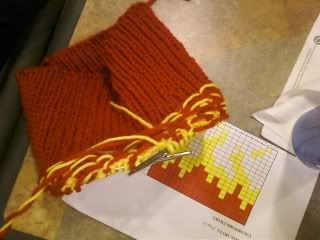 The interesting thing about this one is a trick I learned from a commenter: knit so all the color floats are on the *outside* of the knitting - and she's right, it makes a *huge* difference as to the appropriate length of said floats. No more scrunching and bunching! I don't think I'm up to using this trick on DPNs as yet, but it works like a charm on circular needles!

New year housekeeping on Rav: If you're on Rav, and you want to see any of the class projects, I went through this morning and fixed all my tags (so they'd be HPKCHC specific, rather than Rav-general). To see everything go to my project page and look for "HPKCHCSlytherin"; by year, "1stYear", "2ndYear" or "3rdYear" (that last one doesn't have much), or by class: "arithmancyclass", "potionsclass", "defenseagainstthedarkartsclass". It took a while, but it was SO worth doing - everything is much easier to find now (especially for me, and let's face it: I'm the one who really cares.

And a bit of housekeeping here from 2010: Something I finished late in the year, but didn't get a decent photo until now. (Well, OK, the photo isn't really decent, it's pretty blurry, but at least you can see the danged thing is finished!)



It's really cute. I have four more pieces of cloth, so I'm going to make different inserts for the necklace, which has Velcro inside (for maximum ease & switchability). One of them will definitely say "Slytherin".