Here's my Granny Square Baby Blanket WITH FLAMES for Charms as it was at the end of January 2: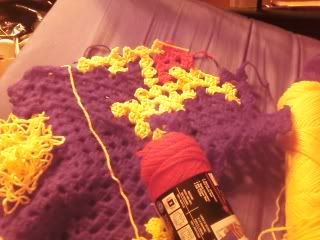 ... and here it is now: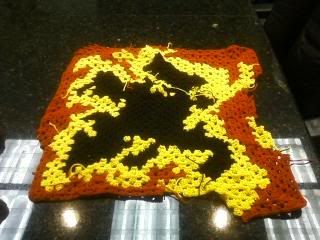 This is a shower gift for a baby shower this upcoming weekend. Since I have yet to get the couple's wedding gift (a sampler with the date, etc.) finished, I figured I'd better come through for the baby-to-be. And I think the to-be-parents will like the fact that it's not the Usual Baby Colors. Yay!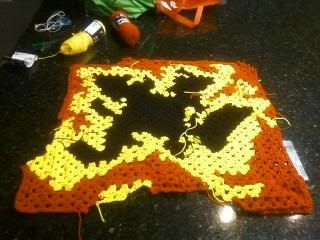 As of now, it's got two complete skeins (at 165 yards each) of Black, and one each (same yardage) of Cherry Red and Yellow. I may have some yellow left over, but I'm not sure about the red. The black bit in the center is, well, going to be off center - but since when was a fire ever balanced? I think it's going to be pretty cool. Hoping to finish it tonight!