Knitting is the Hot New Thing Again This Year. FOR TRUE. I walked down the Big Mall on Saturday, and in the space of five minutes, took all of these pictures:


Ann Taylor

Coldwater Creek

Brooks Brothers

United Colors of Benneton

Wet Seal

American Eagle Outfitters


Over at the bargain outlets, it's selling as well. TJMaxx:

JCPenny Catalog Outlet Store:


Yes, that's Moonlight Mohair & Fun Fur.
At JC Penny.

And good heavens, even the local newspaper has a knitted outfit on the cover (for the second time this year):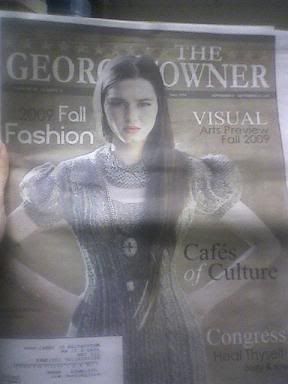 Nothing beats the Yarnball Sheep in the Diesel window from last year, though. Baaaa!